Are Veneers Permanent Teeth Substitutes? That's the Big Question.
Many people are looking to dental practices to give them the perfect smile, and cosmetic dentists are pitching porcelain veneers to achieve this. A porcelain veneer is a thin sheet of white ceramic that is bonded to a tooth or teeth to mask natural color, shape, or positioning in the mouth.
If you're considering veneers you're probably wondering: Are veneers permanent teeth substitutes? The answer to the question: "Are veneers permanent teeth substitutes?" is a resounding "NO!"
In this post, we will explore the misconceptions about porcelain veneers and explore easier, non-invasive alternatives.
Are There Any Alternatives to Porcelain Veneers?
In the past two years, the average person in the street has become more willing to undergo cosmetic dentistry because of a lack of affordable options. This means more people than ever are at risk of suffering the pain and cost of porcelain veneers. This is a crisis.
Brighter Image Lab combats this crisis on a daily basis by offering a pain-free, procedure-free alternative to porcelain veneers. They believe patients shouldn't have to endure pain or sacrifice their natural teeth for a new smile, and they're absolutely right.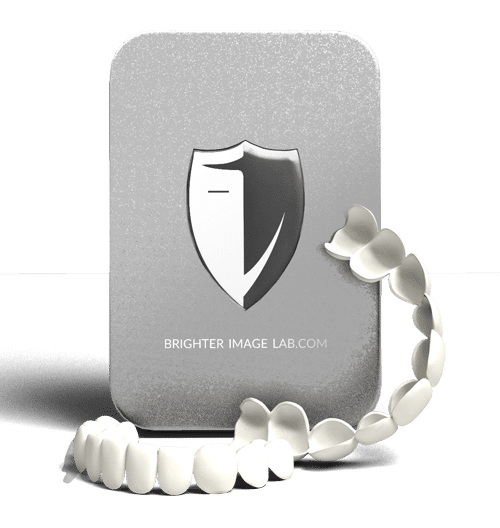 Brighter Image Lab's removable veneers are made from a crystallized resin, originally developed by NASA, used particularly for its strength and durability. 
The temporary veneers are very stain resistant and have received no complaints of sensitivity.
They don't require drilling, shots, grinding, or removing any portion of the natural teeth. And they're completely reversible!
If you get porcelain veneers, you can never get your teeth back. But, if you try Brighter Image Lab removable veneers first, you can always decide to get porcelain veneers later. 
So, if you're considering porcelain veneers, try Brighter Image Lab's PressOn Veneers first and test the waters. Don't be disappointed by your porcelain smile — place your order for snap on veneers today!
PressOn Veneers vs. Porcelain Veneers
Both PressOn and porcelain veneers both hide imperfections such as chips, cracks and discoloration as well as improve the look of your overall smile. However, there are some key differences between the two:
Price
With Brighter Image Lab, you get your money's worth.
Our PressOn Veneers start at a low price of $795. They fit over the front eight teeth, covering any imperfections for a complete smile makeover.
Porcelain veneers can cost over $1,000 per tooth, and involve invasive procedures to install.
Essentially, you get perfect coverage for the front eight teeth for less than the price of a single porcelain veneer.
No pain or dentist visit necessary!
Procedures
PressOn Veneers don't requite any surgical procedures or anesthetic, no enamel removal and no damage to your natural teeth. They are light-weight and completely removable.
You simply take your own impression at home, and we produce a perfect custom set of removable veneers to completely transform your smile.
Porcelain veneers require extensive surgical procedures. The enamel is shaved from the surface of each tooth, irreparably damaging the teeth's only notable defense.
When the veneers are completed, they are cemented to what remains of the natural teeth.
Once this is done, there is no going back.
Temporary vs. Permanent
PressOn Veneers are temporary and completely removable. They are both affordable and durable, making them a great value to anyone looking to improve their smile.
You can drink and eat most foods without having to remove them. This allows you to maintain your new smile in social settings so you never have to feel self-conscious.
Porcelain veneers are widely advertised as a "permanent" solution. This is far from the truth.
These harsh veneers may be cemented to your teeth, but they aren't staying there forever.
They will need to be replaced multiple times and may cause painful complications as time goes on.
Damage
PressOn veneers don't damage your existing teeth, unlike traditional veneers where your teeth and enamel are scraped and filed down.
These removable veneers cause no harm to the existing teeth. You can snap them on and off as many times as you want, your natural teeth will never be harmed!
Porcelain veneer procedures do not respect your natural teeth in this way. In fact, they cause irreparable damage to existing teeth and can lead to infection, extreme sensitivity, or staining.
Are Veneers Permanent Teeth Substitutes? No!
Porcelain veneers are anything but permanent. In fact, they will have to be replaced one or more times throughout the course of your life. Because some dentists advertise porcelain veneers as a "permanent" solution, patients are surprised to learn they must be replaced. About half of porcelain veneers don't even last 10 years, making them anything but "permanent."
Many patients also don't fully understand the irreversible damage the veneer procedure poses to their natural teeth, or the numerous complications they may suffer. Patients who undergo the extensive porcelain veneer procedure endure pain, discomfort, and irreversible damage to their natural teeth.
In addition, these patients are also at risk of suffering the many complications associated with the procedure. Infection, extreme sensitivity, and staining are only a few of the listed side effects.
Many patients who choose porcelain veneers as their smile solution regret the decision soon after. With the many dental procedures and painful complications of permanent veneers, many are left wishing they had chosen an easier alternative. If you are considering porcelain veneers as your smile solution, think again.
There are other smile enhancement options available that do not require the procedures or come with the side effects of permanent veneers. For example, Brighter Image Lab PressOn Veneers. These removable veneers require no appointments and come with no side effects. In fact, the entire PressOn Veneer process can be completed from the comfort of your own home.
Removable veneers are a safe and affordable alternative to permanent veneers that allow clients to achieve a beautiful smile with no pain and no procedures.
Read on to learn more about porcelain veneers and why you should avoid them!
How do Porcelain Veneers Work?
The first step cosmetic dentists perform during the porcelain veneer process, is to prepare the teeth.
This involves filing down the natural teeth to make room for the porcelain veneers, irreversibly destroying up to 30% of natural dental tissue.
One patient described this process as "a physical assault" and expressed that "having the enamel of healthy teeth blasted away is every bit as invasive as the surgeon's scalpel slicing into your skin."
Even worse — if the dentist removes too much tissue, the nerves become inflamed or infected, causing the tooth to die.
This issue requires a root canal treatment and creates more undo stress and discomfort for the patient.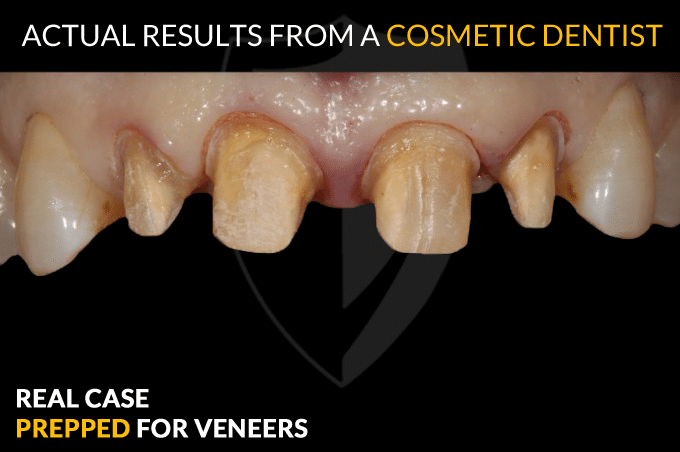 Once the dentist has finished filing, impressions are taken of the nubbed teeth and sent to the dental laboratory where the veneers are made.
Once they have been filed, there is no going back. The existing teeth have been completely, irreversibly compromised.
When the veneers are complete, they are cemented to what is left of the natural teeth.
Since the teeth are vulnerable and no longer have enamel to protect them, they will always need veneers or crowns to prevent decay.
Many dentists believe this procedure is widely overused and share concern for patients' long-term dental problems and irreversible damage to their natural teeth.
This is a lot of sacrifice and risk for a solution that isn't even permanent. No wonder many patients end up seeking alternatives to veneers.
Read on to learn how porcelain veneers can go wrong!
What are Some Examples of Porcelain Veneers Gone Wrong?
Porcelain veneers can go wrong in many different ways.
Porcelain veneers gone wrong leave many patients suffering the pain of dental problems they didn't anticipate.
One example of this is the veneers being too large. This allows bacteria to develop and cause an infection in the gum/mouth, which leads to soreness and swelling.
Veneers that are too large often cause patients to feel self-conscious about their smile and result in an uncomfortable fit.
Because these oversized veneers can crowd the mouth, they may cause discomfort or pain for the patient.
The process of removing enamel also poses complications.
If your dentist removes too much of your enamel, it can cause your teeth to ache uncontrollably and become extremely sensitive to hot or cold substances.
This can be very uncomfortable for patients. The extreme sensitivity can lead to irritability and headaches, subjecting patients to even more stress and dissatisfaction.
Many patients complain about the appearance of their porcelain veneers. Some feel they are too wide, too long, too white, or too thick.
But there is no going back. Once they are set, the imperfections of the veneers are as strong as their bonding solution, which is strong enough to last a decade.
Are veneers permanent? Nope. Porcelain veneers wear down, break, chip, or fall off over time. They can even become discolored when being fitted, making it difficult to achieve the desired look.
Even though they're definitely not permanent, their side effects may be. The irreparable tooth damage patients sustain when being prepared for porcelain veneers can never be repaired.
Luckily, there are better, non-invasive options available for people who want to better their smile without the pain and complications of porcelain veneers. Keep reading to find the best option for you!
Conclusion
Many people are looking to cosmetic dentists to achieve the perfect smile — you may be one of them – but don't settle for a process that will damage your teeth.
Those thin shells of porcelain are used to correct crooked or discolored teeth but require replacing and often come with a slew of uncomfortable complications.
The porcelain veneer preparation process is brutal and causes permanent damage to existing teeth. For this reason, porcelain veneers are not a good option for smile enhancement.
Luckily, no-prep veneers, such as Brighter Image Lab PressOn Veneers, offer patients the opportunity to improve their smile without damaging their existing teeth or suffering painful complications.
These unique veneers correct crooked and/or discolored teeth, and they don't require removing any portion of the natural teeth. They are completely pain-free and dental-procedure-free and can be completed without ever leaving the house!
Using the latest technology and groundbreaking innovation in the field, Brighter Image Lab allows clients to achieve a beautiful smile without sacrificing their existing teeth or suffering painful complications.
Don't be a victim of bad veneers. Click below to achieve your new smile today!
Our classic, beautifully designed, 100% Digitally Processed, Removable Veneers.
Our Master Crafted Veneers. Redesigned from the ground up to be Thinner, More Detailed, and Stronger than ever before.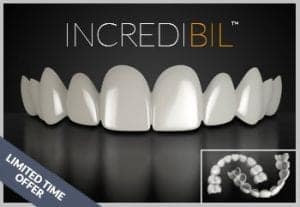 The newest addition to our family of veneers features unique light reflecting properties.