Need a Broken Teeth Fix? Your Solution's Right Here!
Breaking a tooth can be traumatic!
If you've recently broken a tooth, odds are the first thing you did was go online and frantically Google: how to fix a broken tooth, broken teeth fix, or something similar.
Well, you're not alone. Many people are looking for advice about broken tooth repair.
In this blog post, you will learn the many causes of broken teeth and how to fix them.
So, if you're looking for a broken teeth fix, read on!
What Causes Broken Teeth?
Teeth often break due to blunt force or impact.
Car accidents, for example, can cause serious damage to your teeth.
Airbags don't always protect one's mouth the from damage. In fact, they have been known to cause tooth damage when deployed!
Sports are also responsible for many broken teeth because they have a high risk of collision, which can lead to a broken tooth.
Remember, even non-contact sports come with some amount of contact.
So, when you play sports, wear a mouth guard. Protect your teeth!
How to Fix a Broken Tooth – 6 Broken Tooth Repair Options
If you've recently broken one or more teeth and are looking for a broken teeth fix, there are many options for you to choose from.
Here are just six:
Porcelain Veneers
A porcelain veneer is a thin sheet of porcelain that is permanently bonded to a tooth or teeth.
The process to prepare teeth for veneers destroys up to 30% of natural dental tissue. If the dentist removes too much tissue, the nerves become infected, killing the tooth.
Once porcelain veneers are fitted, there's no going back. Your natural teeth have been destroyed. Since the teeth are no longer protected by enamel, they will always need veneers to avoid decay.
A pain-free, procedure-free alternative to this dangerous broken teeth fix is removable veneers. Brighter Image Lab's PressOn Veneers are applied by YOU with no preparation or teeth damage. This is your at-home fix, since you never have to step outside to become the proud owner of removable veneers. They simply snap over your existing smile–no pain, no procedures, no complications.
Dental Implant
There are many downsides to choosing dental implants as your broken teeth fix.
The process of fitting dental implants is a lengthy one. Many steps are involved, including a 6 month wait for the implant to fuse with the jawbone. In some cases, implants require additional procedures like bone grafts or sinus lifts.
Other downsides of a dental implant include gum infection, periodontal disease and bone loss. Cost is also an issue, as implants are one of the most expensive broken tooth repair options.
Brighter Image Lab's removable veneers are a safe, low-cost alternative to dental implants. They are the best at-home broken teeth fix. They do not require surgery or come with any harmful side-effects.
Root Canal
Removing your broken tooth will be painful.
If you're considering this broken teeth fix, anticipate swelling, tenderness, irritation & discomfort.
After extraction, there is also a chance of a pit forming where your natural tooth was. This could lead to infection and potentially effect the surrounding teeth. If these side effects make you nervous, you should take some time to consider other options.
Removable veneers can cover your broken tooth until you find your permanent solution. So, don't rush into anything. Get your smile back NOW with no pain and no complications, with Brighter Image Lab's at-home solutions.
Dental Crown
There are many disadvantages to using dental crowns as your broken tooth repair option.
If you choose this procedure, your broken tooth will be permanently filed down and reshaped in preparation for the crown. Essentially, what remains of your natural teeth will be destroyed.
The material used for your crown may crack over time and leave you again with a tooth that effects your smile. The cement used to place the crown may wash away, allowing bacteria to form under the surface.
Poorly fitted crowns may come loose and even fall out, putting you right back where you started. Many patients who choose this broken teeth repair option also experience extreme sensitivity.
If the negative effects of crowns concern you, don't worry! There are safer options available. For example, temporary veneers are a great alternative to dental crowns. Brighter Image Lab's PressOn Veneers cover broken teeth in an instant – no procedures necessary!
Bonding
If you're considering bonding as your broken teeth fix, there are a few downsides you should consider.
Bonding material is a lot weaker than natural teeth, so there is a high risk of it breaking off. It may stain differently than your natural teeth, causing it to stand out. So, you will need to watch what you eat and modify oral habits if you choose this broken teeth fix.
Brighter Image Lab veneers are a great alternative to this ineffective broken tooth repair option. They are strong and durable, allowing them to hold up against most foods, and natural wear and tear. PressOn Veneers are stain-resistant and maintain a consistent shine for a beautiful smile all day, every day!
PressOn Veneers
Brighter Image Lab's PressOn veneers are a great option for anyone looking for a broken teeth fix. These natural looking veneers cover broken teeth instantly for a beautiful smile you'll love.
These revolutionary removable veneers are designed to be ultra-thin and durable. They are comfortable enough to wear all day and durable enough to act in place of broken teeth.
With PressOn Veneers, you will experience complete coverage for each of your front eight teeth. This coverage awards the confidence of a complete smile without the pain of implants or veneers.
Here is a client example to show just how effective these veneers are at covering broken teeth: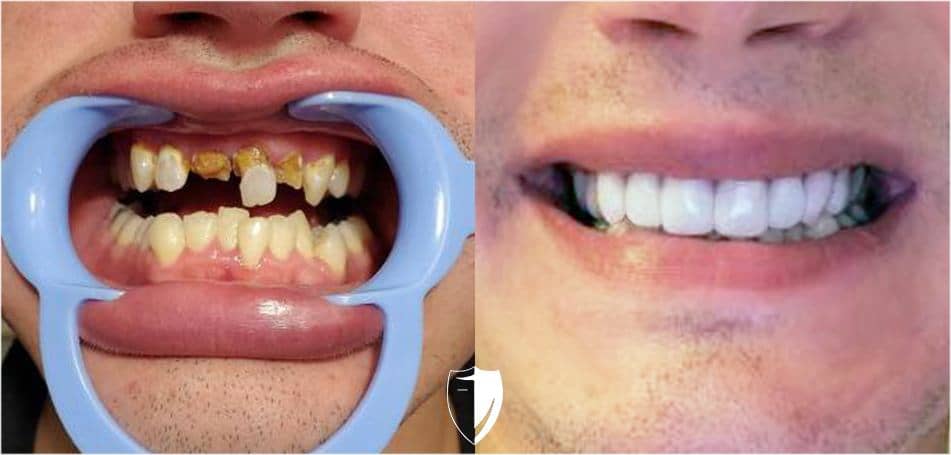 We've all heard the saying, "A picture is worth a thousand words." The picture above says a lot about Brighter Image Lab's smile enhancement. As you can see, the client was able to cover his broken teeth perfectly with PressOn Veneers. His removable veneers smile looks amazing!
Read on to see if this smile solution is the right choice for you!
As you can see, there are many broken teeth fix options available. However, most of them come with painful side-effects and potential complications.
You shouldn't have to endure pain to enjoy a better smile, so don't! Choose Brighter Image Lab's dental veneers and improve your smile safely by covering your broken teeth without altering them.
Curious if this broken tooth repair option is right for you? Read on to find out.
Are PressOn Veneers the Best Broken Teeth Fix for You?
If you're trying to determine if Brighter Image Lab's dental veneers are the best option for you, here are a few things you should consider:
Cost
Starting at just $795, PressOn Veneers are one of the most affordable smile solutions available. They're half the price of our removable veneer competitors! With 100% approval on financing, getting this broken teeth fix has never been more affordable.
Convenience
Brighter Image Lab allows you to complete your PressOn Veneer process from home.
Our Lab Direct Process allows us to serve clients all over the world from a single dental lab. No appointments, no procedures and no alteration to your natural teeth. You simply order online, take your impressions at home when the impressions kit arrives, and follow our instructions to ship them to us. We do the rest!
When you receive your new smile (delivered to your door), you'll see why we're so passionate about our product. It's because our removable veneers have the power to change people's lives. They fill gaps, cover broken teeth, and improve the look and shine of your smile in an instant. Just snap them on and smile. It's that convenient.
Effectiveness
Broken teeth are common, but that doesn't mean you have to look at them every day. PressOn Veneers cover broken teeth without the pain or cost of cosmetic dentistry. These revolutionary veneers are lightweight and removable. They are ultra-thin and durable – comfortable enough to wear all day and strong enough to carefully eat in.
With PressOn Veneers, you don't have to choose between fit and function. They fit like a glove and feel like a dream. They are the most cost-effective, convenient, and comfortable broken teeth fix available.
Safety
PressOn Veneers simply snap over your existing smile with no preparation or complications. Wearing Brighter Image Lab's veneers on your teeth is as safe as a glove on your hand.
Other solutions can be costly, painful, and take months to complete. So, give yourself some time to decide what permanent solution is right for you. Rushing into a decision about your broken teeth fix can be dangerous and expensive. Go with the safe, convenient, cost-effective option. Choose Brighter Image Lab.
Celebrities with broken teeth
Stars like Will Smith and Jason Derulo have faked broken teeth for TikTok fame.
Derulo coined this broken teeth trend by posting a viral video in May 2020.
The video depicts the famous singer breaking his tooth on an ear of corn, which is fixed to a rotating household drill.
The video was viewed more than 16.7 million times, and sparked a very dangerous trend.
Will Smith joined Derulo for his second broken teeth video in August, which also went viral, reaching a whopping 8.1 million views.
The video shows Smith attempting to help Derulo with his golf swing.
This results in Smith taking a golf club to the face and revealing a set of broken teeth to the camera.
COVID-19 and Broken Teeth
It is no secret that the COVID-19 pandemic has triggered anxiety for many people.
You may be surprised to learn, though, that this stress can potentially damage your smile by causing you to grind your teeth.
Grinding, scientifically known as bruxism, is often triggered by stress.
It occurs when people clench or grind their jaw during the day or when they sleep.
Symptoms of teeth grinding included headaches, pain or soreness in the jaw, cheek damage and chipped or broken teeth.
Enduring the pandemic has caused stress for many people.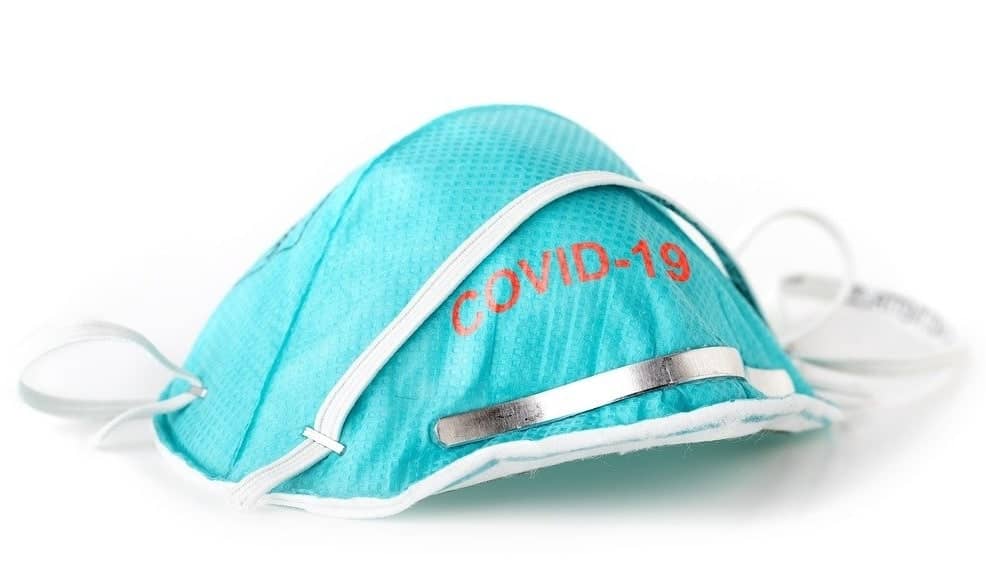 Dentists across South Florida are reporting an increase in broken teeth repair cases as a result of pandemic stress and teeth grinding.
One Florida dentist said she sees one or two more patients each week for broken teeth than she did before the pandemic began.
Some of the breaks she has seen are so severe they require expensive and painful procedures to fix.
While teeth grinding is fairly common, these and other pandemic-related stresses are making it more so than ever.
Florida dentist Dr. April Patterson explains:
"Generally, it has to be a repeated amount of strong stress on a tooth for it to break. . .A stressful week at work is one thing, but having a couple of stressful months is another thing."
Stress management is a good way to prevent teeth grinding and broken teeth.
Dr. Rachel Needle, a Florida psychologist, recommends breathing techniques as a way to lower anxiety.
Simply inhale for five counts, hold the breath for three, then exhale for five.
Repeat this exercise a few minutes each day to help reduce anxiety over time.
Practicing mindfulness, staying active and limiting social media exposure are also helpful ways to help reduce anxiety over the pandemic.
Conclusion
Teeth often break due to blunt force or impact.
Car accidents and contact sports are two of the most common causes of broken teeth.
Popular broken tooth repair options include: root canals, dental crowns, porcelain veneers, implants, and bonding.
These options require multiple dental appointments and take time to complete.
They are also rather expensive when compared to the Brighter Image Lab cost, which are a great alternative to other, more extensive dental solutions.
Choosing PressOn Veneers as your broken teeth fix comes with many benefits, such as cost, convenience, effectiveness and safety.
These top-quality, natural looking veneers cover broken teeth instantly to give you a beautiful smile you'll love.
So, don't wait! Order your own pair of custom-fit veneers and repair your smile today! Your broken teeth fix is waiting!