A Smile Makeover and New Hope for a Young Mom
In this vlog our Smile Design team reached out to a young mom for a smile makeover, watch the video below to see her smile transformation!
Warning: This post contains mentions of domestic violence. If you or someone you know suffers from domestic abuse please call 1.800.799.SAFE.
Restarting your life after getting out of a bad relationship can be difficult, especially when you're left permanently disfigured.
Nearly 5 million acts of domestic violence happen annually and will affect 1 in 4 women in their lifetimes. Roughly 40% of victims never contact the police, and most injuries sustained by victims of abuse tend to be around the neck, face, and head. While many women are able to recover, some are left with permanent scars and broken smiles.
So how do you move on when your teeth have been knocked out, reminding you every day of your traumatic experience?
The Sunshine State
Traveling all the way to sunny, Fort Walton Beach, Florida, Bil Watson continues his mission to provide a better smile for those who can't afford expensive cosmetic dentistry.
As the founder and Director of Brighter Image Lab, Bil has worked diligently to disrupt the cosmetic dentist industry with his Lab Direct technology. Now, people can get confidence back in their smile without breaking the bank.
Today he gives a smile makeover to a Florida mom in need.
Meet Ashley.
Ashley has lived with a broken smile for many years. As a victim of domestic abuse, her missing teeth are a reminder of a time in her life she'd love to heal from. She's found great strength in her children, and a healthy new marriage, but searching for an affordable option to fix her smile has been next to impossible.
She was quoted $30,000 to get her teeth fixed by a cosmetic dentist, way beyond her budget as a working mom trying to find her feet again.
Having to restart your life is difficult enough, but now Ashley faces the discrimination and judgement that comes with having a bad smile. Employers are less likely to hire someone with bad teeth, and romantic partners avoid people with a bad smile altogether.
Victim of domestic violence? Share your photos and story to find out what we can do for you!
Thankfully, Ashley has been married to a decent man for over two years. One that has worked hard to try and help her find an affordable smile solution, and ended up nominating her for the Brighter Image Lab smile makeover.
She's not afraid to show her smile to Bil, but it's easy to tell smiling is something she tries to avoid.
Before meeting the Brighter Image Lab director, Ashley used a wax tooth to fill the gap in her smile. But wax teeth are hard to shape, giving them a bulky and uncomfortable fit, and the discoloration is hard to miss.
Bil asks Ashley to smile once more, and it's clear doing so causes her great emotional distress. Her self-esteem is still healing from an event that happened years ago.
What she's hoping for is a miracle, one Bil is happy to provide.
Stunning Smile Makeover
The new dental veneers immediately capture Ashley's attention as Bil pulls them out. Her eyes are hopeful, and she's eager to see the results of our company's Lab Direct process.
The change is immediate.
Once a shy and reserved mom, Ashley's new smile lights up the room, and the years of fighting her self-image begin to fade away. One glance at herself in the mirror and Ashley can no longer contain her emotions.
No longer will she have to hide her smile, or fear being judged and discriminated against for having a bad one. She can now experience all the wonderful benefits smiling can offer, both physically and mentally.
"Thank you Bil, and thank you Brighter Image Lab team. I am so grateful for everything y'all have done." Ashley says in a video testimony she shared with us after leaving her meeting with Bil. "You let me talk about what I've gone through, and hopefully other women will see this and say 'Hey, I can do this too!'"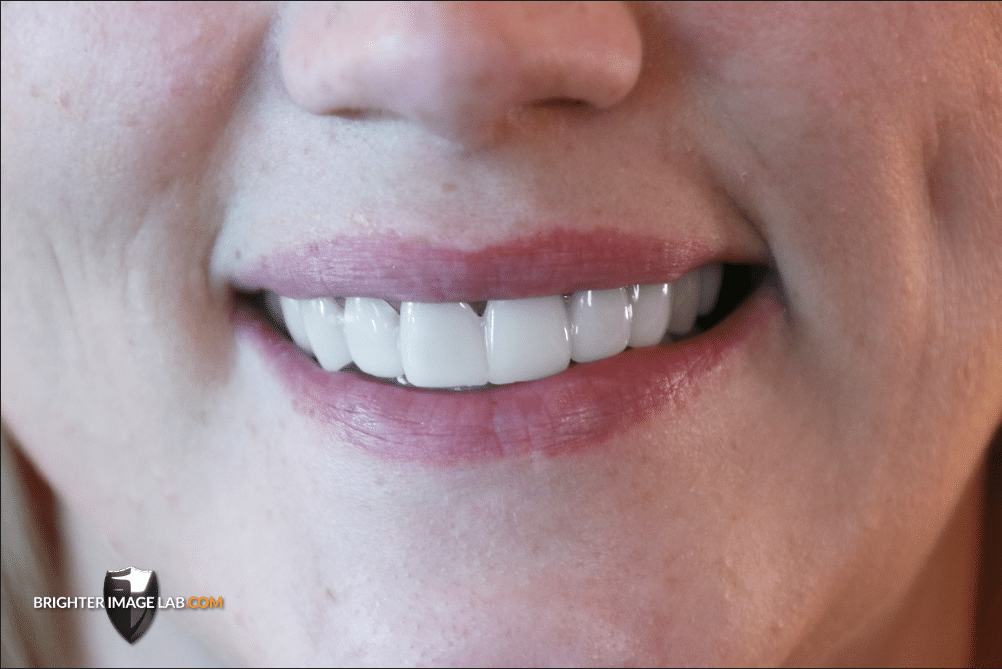 Ashley continues to share her excitement and satisfaction with her new smile. She no longer feels self-conscious about appearing in photos with her family and friends. Years of trying to pick up the pieces of her life made easier with a little help from Bil and her new smile makeover.
Getting a Better Smile
Domestic violence victims like Ashley no longer have to worry about the damage to their smile left by abusers, or the high cost of cosmetic dental work.
Brighter Image Lab is able to provide high quality dental veneers at our lab direct pricing, meaning you won't have to take out a loan for a better smile. And we can do it for under $1,000.
So how can you get yours?
Check out our free smile analysis quiz to see if we're right for you.
We now offer financing through our website. All credit is approved. You can apply here.
Want to see more from us? Like, subscribe, follow and share to see smile makeover stories similar to Ashley's!