Introduction
People all over the world suffer from broken, missing, and misaligned teeth because they can't afford expensive cosmetic dentistry. Brighter Image Lab has stepped up to provide an alternative smile solution that won't cost you a fortune.
Bil Watson, Brighter Image Lab founder and director, takes to the road to hand deliver a new smile to his clients. Watch the video to see how making the decision to improve your smile can transform your life!
Smile Delivery
In the Studio
"Hey guys, I want to talk to you about the importance of sending me your before pictures. Every time you submit a job to me, I go and work on it so we can make impressions.
And we can do a lot, but nothing helps me match the character of a smile. I can't build to fit your face if I don't see your full face.
This guy, I was able to look at his smile and if I didn't see his full face there's no way I could have built this smile for him.
I want you to see what I'm building. I want to give him a smile that I think would be the smile that he wished he always had. And literally I'm going to match these up to a certain size that just about tells me what this is going to be like. Helps me add character and personality.
Everything I do revolves around what I think they're going to end up doing for the person who's wearing them. Thank you for sending me these before pictures and I cant wait to show you his after pictures. Comment below, and follow."
On the Street
"Hey guys, I'm Bil Watson with Brighter Image Lab and today I'm delivering this guy's smile makeover. He showed me his before pictures, and I don't think he's ever seen himself with a nice smile.
So I want to do what I can to deliver these, and I can't wait to see the results. He's agreed to let me film it. I haven't met him, he's never met me. We're just doing this for you."
Meeting the Client
Bil: "How are you doing man, we got this set up for you. What do you think? Have you ever seen your smile? We've never met?"
Chris: "Nope."
Bil: "I want to give you this hashtag, #smilewithme. Your smile is going to be so nice people are going to ask you about it. This should change your smile, like really big. Really bright and perfect."
Chris: "That's what I wanted. I hope so."
Bil: "I picked it, you ready to try it yet? Let me see… Don't you see what I see? You've never seen that before."
Chris: "No… No, no I haven't."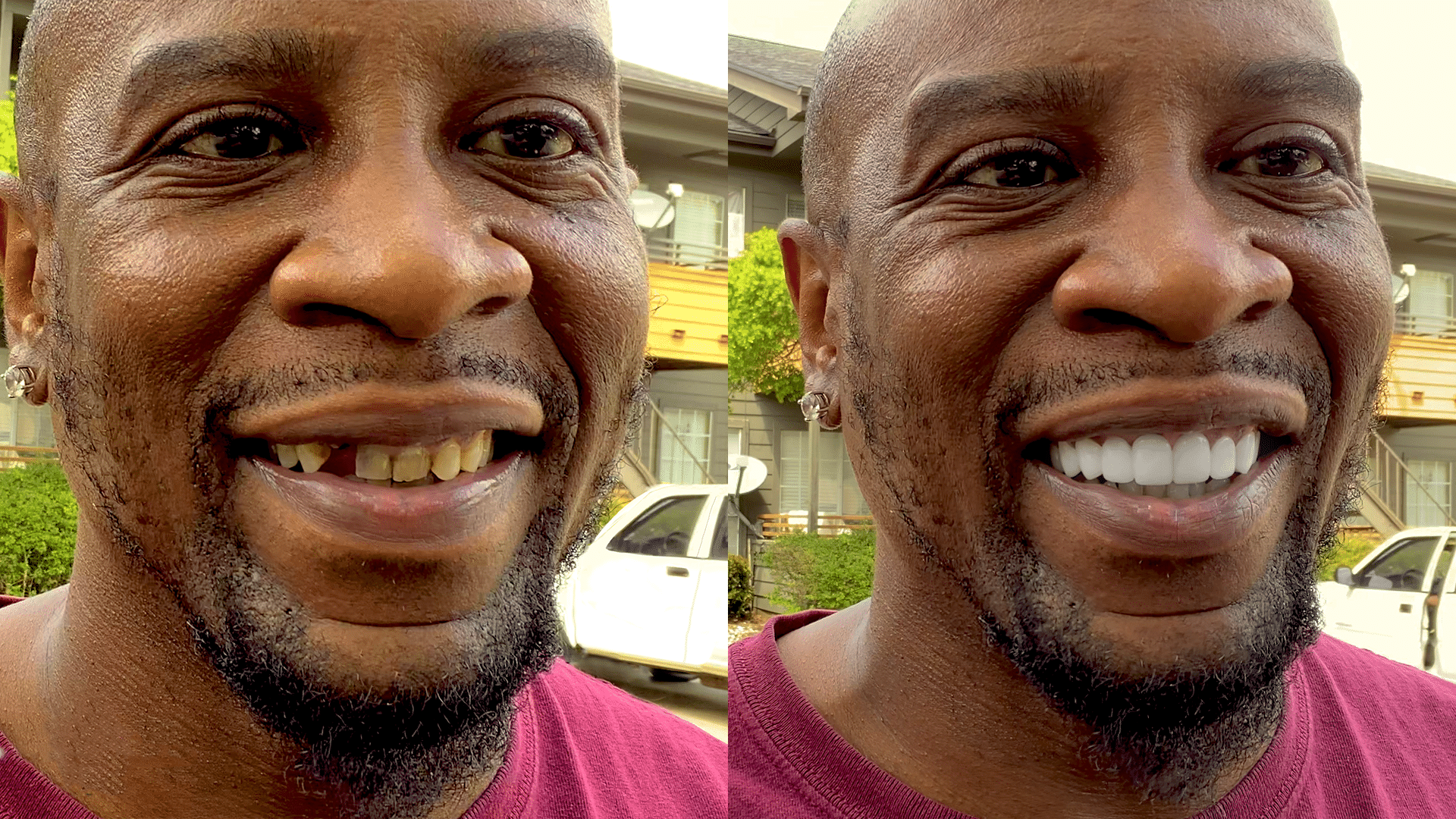 Chris: "Yeah, I like it."
Bil: "Let me see… Dude, it looks so good. Please, lets look at that. Let me show you. It likes to get too close but when you make it big…"
Chris: "Yeah-"
Bil: "You've never seen perfect-"
Chris: "No."
Bil: "It's going to change that. It's going to change the way everybody sees you. That's what I want. You went from the smile that I guess you've been hiding for years?"
Chris: "Yeah."
Bil: "You know a lot of the people that are going to look at this, are going to go, 'Hey Bill, I never imagined what my teeth would look like perfect because they just…' it's not something we think about. But when you see it, it makes your whole palette go bam! It squares up your face."
Chris: "I noticed that, I did it when I noticed it."
Bil: "It looks a lot more stronger."
Chris: "Yeah, I like it."
Bil: "You gotta let it go, you're not used to a big smile are you?"
Chris: "Nope!"
Bil: "You're gonna be able to do it 24/7. Do you mind if I ask, how'd you hear about us?"
Chris: "Just uh, one of them pop-up ads popped up when I was looking. And I just watched the video when I started thinking 'that took a lot of guts.' Then I started looking even more than that."
Bil: "How does it feel?"
Chris: "I feel good."
Bil: "It looks amazing. You know it's gonna change your whole life."
Chris: "Yeah, I had to take some risks. I had to take some risks but… Yeah."
Bil: "I had to add some character, because it was too far in."
Chris: "I'm glad you did!"
Bil: "You got to look at it man, you see it? Just look how close it is."
Chris: "Yeah!"
Bil: "You've never been able to do that."
Chris: "No."
Bil: "You look like you live next door to a cosmetic dentist. You look good man."
Chris: "I know if I've had it, I really haven't. I watched that video so many times."
Bil: "I look at a before picture and I'm like, this guy's gotten too serious but look, I can tell that if I can bring it together… You know? Whatever. You just want to be fun."
Chris: "Yeah, I can't tell you how much I appreciate you doing this. I appreciate you."
Bil: "I appreciate you, because you had to have doubt."
Chris: "Yeah man, I used to."
Bil: "When's the last time you spent a thousand dollars on yourself? You don't do it a whole lot."
Chris: "I get out and about."
Bil: "It just looks good; most people don't spend that much money on themselves. so, when they go man, if this guy will do it, I'll do it. That's what I'll say."
Chris: "I can tell the difference. I can totally tell the difference."
Bil: "Totally different."
Chris: "Total difference. They look different."
Bil: "We did good. Look at that man if you'd had that for the last 20 years… Everyone's gonna know you're different."
Chris: "Yeah, cause they gonna see my smile. I'm glad to do it."
Submit your photos and story for a chance to be in one of our videos!
Bil: "You know you have my phone number. You know the people from work. I can't imagine knowing you without this smile. Like I've only met you once. Everyone who meets you is going to have a strong impression about you."
Chris: "I hope. I hope it works."
Final Words from Bil
"I can't imagine being more genuine… Yeah. He seems to be a really good guy."
…
"Hey guys, we just did that. It was amazing. We actually just changed his smile. This man was 47 years old. He would have done this at 37. 27. He would have done it at 17. Guys, he never improved his smile because he didn't think he could afford it.
Now there's nothing he can't do. I promise you, he let me do this video because he doesn't want you week after week, month after month, year after year to step back and wonder 'one of these days, I'm going to improve my smile,' guys, it has a dramatic profoundly different effect on your life when you improve your smile.
My name is Bil Watson. I'm a smile designer and I want to be your smile designer. Don't live years and years and years with a bad smile. Every week you watch my videos. Take a chance, send me two pictures of your smile, I'll let you know in two minutes.
Guys you saw in two seconds… You just saw in two seconds what I can do for your smile. If I did it for him, I want to do it for you, but you got to send me pictures. Comment below. Follow me. Let me know what you think.
Remember the only reason why me and him did this today is because I'm the only guy he knows. No cosmetic dentist called him. Nobody sent him any ad. Nobody advertised to him. Nobody told him about a friend or nobody told him about a guy they know.
He watched me long enough to where he could trust me. Because I'm the only smile designer he knows. I'm not proud of that, I don't think the dental industry should be proud of the fit. But I'm the only guy he knows that could do a job that was reasonable and get him professional results and that was affordable.
If I'm his smile designer, why am I not your smile designer? Come see me at Brighter Image Lab."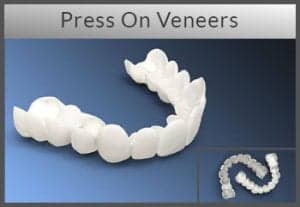 Our classic, beautifully designed, 100% Digitally Processed, Removable Veneers.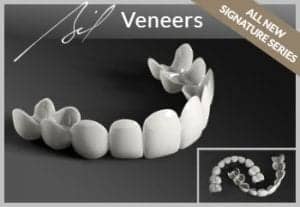 Our Master Crafted Veneers. Redesigned from the ground up to be Thinner, More Detailed, and Stronger than ever before.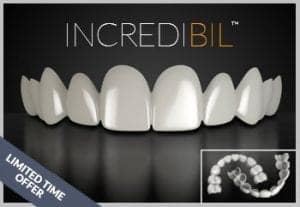 The newest addition to our family of veneers features unique light reflecting properties.