People all over the world suffer from discolored, misaligned, and broken teeth, and one Texas based company is going above and beyond to provide an affordable smile alternative for clients. Brighter Image Lab partners with New Life Smile to bring this woman not only a newly designed smile, but gives her a full makeover. Watch below!
Warning: This post contains mentions of domestic violence. If you or someone you know suffers from domestic abuse please call 1.800.799.SAFE. Or visit the National Domestic Hotline for ways to support victims.
Broken Teeth and A Smile Makeover to Remember
"I want you to look at this smile, and this smile, and this mouth. Guys, if you have broken teeth, crooked teeth, misaligned teeth, do not push the skip button. It's worth it to take two minutes to learn what you can do to improve your smile for the rest of your life. It's gonna be worth it.
I promise you all you have to do is look at these pictures. And these pictures. And these pictures. All these people are live clients. Every smile that I show you today can be transformed for just $149 down."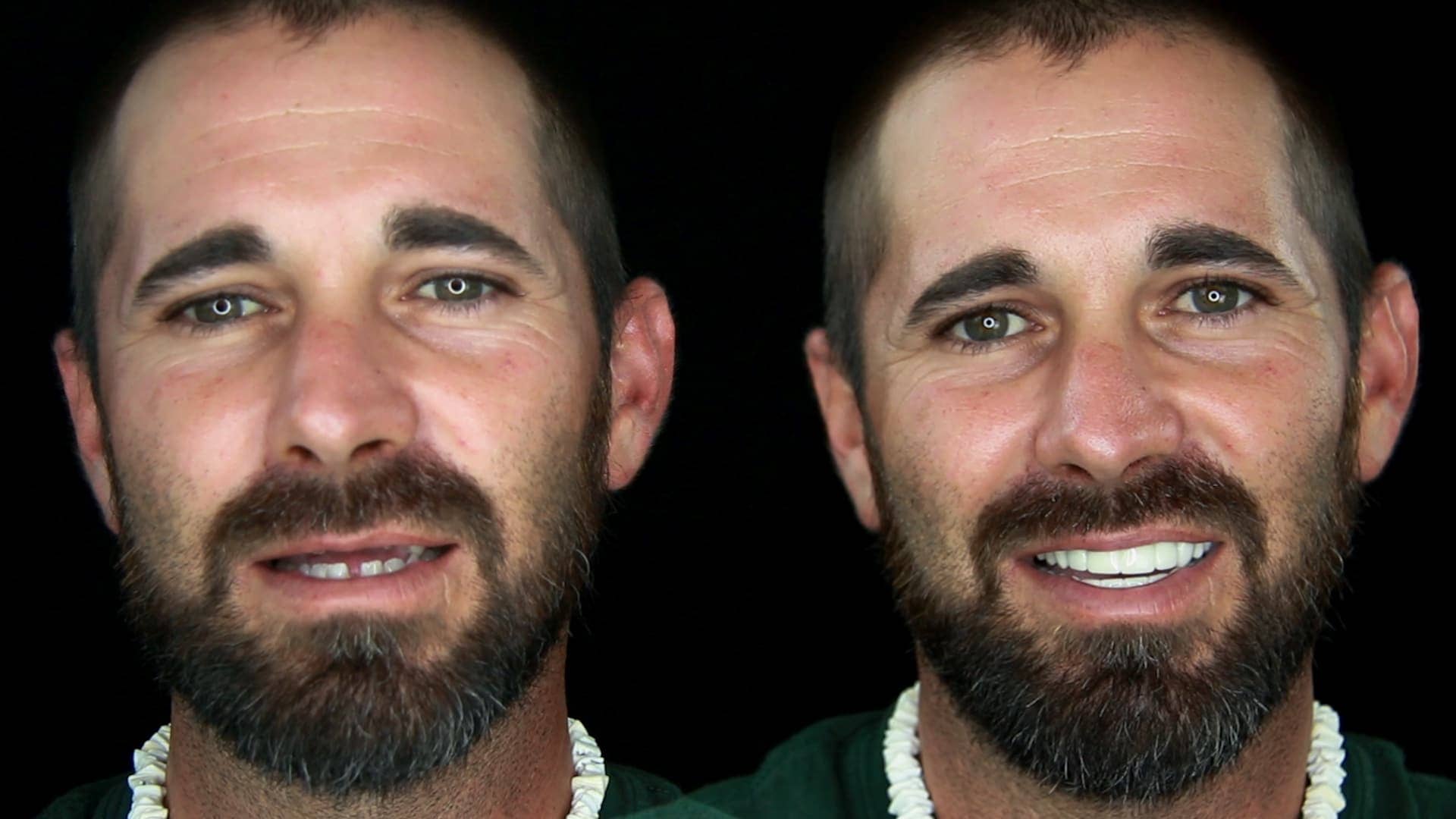 "They were sitting there watching YouTube and I asked them for two minutes and they let me show them how I can improve their smile. I'm going to take the first pictures that you looked at, you're going to see a live video of what it's like for me to change your smile.
She lived with a bad smile for three years, five years, and I'm gonna change in three to five minutes.
If I can do it for her I'd like to do it for you.
You don't have to live with your smile any longer but you have to watch this video. Think about sending me two pictures of your smile and thinking about coming to see me at brighterimagelab.com and let's see what I can do for you.
Last thing I want to say is you cannot afford to live with a bad smile professionally, personally, financially. You're not going to get away with a bad smile you're going to suffer with a bad smile. It's not just me saying it. I'll tell you what we can do to move forward but you got to…You got to watch it all the way through.
I'll see you at the end of this video. Bye."
Meeting with Kerri
Bil: "First of all, I want to tell you something else. This is important to me, to everybody. Perfect freaking impression. Was it hard?"
Kerri: "I was very nervous. I did one by myself and then I went and asked your employee to help me do the other one and she goes, 'I think these are fine,' and I was like well I'm really scared that it's not gonna be okay because this video expresses so much stress on the impressions."
Bil: "How long ago did you lose your smile?"
Kerri: "A few years ago I just lost it. Well no, got knocked out."
Bil: "Oh man don't tell me that. Okay. Got knocked out now we're trying to fix it, even fixing it with wax?"
Kerri: "No I had a temporary a temporary crown and then knocked it out again. And so that time it broke the prep tooth. And so my dentist was like kind of put out with me because he's also a friend so I just didn't go back and ask him to fix it again."
Bil: "You ready to try this thing? If this does what it's supposed to do, it's going to make your features pop. If you will do me a favor look at that camera. Look how pretty your eyes are. This literally should take, this should be proof young lady, nice colored hair, but you didn't do it today. You just put it out. You wore a helmet really, and then you just drove over here, but this should be perfect. This should make your face pop.
Kerri: "But I'm not young. I'm just gonna point that out."
Bil: "Well the whole world is gonna think you're young. And young is all relative. Nervous?"
Kerri: "Yes."
Bil: "What do you see first? It's going to be big for your kid to see. I am looking because it looks good. You see what's up? Wow. Scared nervous?"
[Kerri puts the veneer in and checks it out in the mirror.]
Kerri: "Look at that. Oh my god."
Bil: "We did it kid, we did it. Oh man, I didn't mean for this to be that big of a deal."
Final Words from Bil
Bil: "Guys that's a wrap. I hope that works you. I hope you like watching what we do, and if you have a bad smile, if you're thinking about changing the future, do me a favor. Like, subscribe, follow us, and comment.
It helps me communicate with you more. You know me. I want to know you better and the way I do that is by following up on future videos. That notification button is the way people know me the fastest.
I have things that I want to tell you about from time to time. It helps me help you. If I know you better, thank you for hitting the subscribe button."
Conclusion
Brighter Image Lab was able to help Kerri find her smile again with our Lab Direct dental veneers. She, like many, was unable to afford expensive cosmetic dental work needed to restore not only her smile, but her self-esteem. The confidence she lost in herself after being in an abusive relationship took a heavy toll. Thankfully Bil and the Brighter Image Lab team have been able to give her some of that confidence back.
Check us out on Instagram, or watch more videos from our YouTube channel! There are plenty of stories just like Kerri's, and Brighter Image Lab has been there to help give you back your smile. Don't let broken teeth become a barrier to living your life, try Brighter Image Lab today!