Introduction
Hey guys, Bil Watson! This week it's Thanksgiving and I want to do a blog that's a little bit different.
I want to talk to you about Thanksgiving being more to me this year than just a holiday. The Covid-19 pandemic has had a big effect on people, and Thanksgiving is a time to be thankful for the positive things we can do for others.
For me, it's more about thankfulness than it is about giving and I have so much to be thankful for. I'm incredibly appreciative. I hope that's the way you see it too.
I will discuss smile transformation, smile giveaways, and what I am most thankful for this holiday season.
Brighter Image Lab Smile Transformation
I have some really good news. I have two people this week send me some dental veneer results they said were life changing. This meant the world to me.
This first young man is named Raymond. As you can see from his picture on the left, Raymond is an attractive young man. However, he had a smile that was holding him back. I think Raymond's smile caused him to be judged a little bit. I don't think he truly got to see himself for all the positives.
Raymond's teeth aren't perfect, they're small, yellowed, and have a lot of spacing between them. Luckily, he came to Brighter Image Lab and we were able to give him the smile transformation he deserved.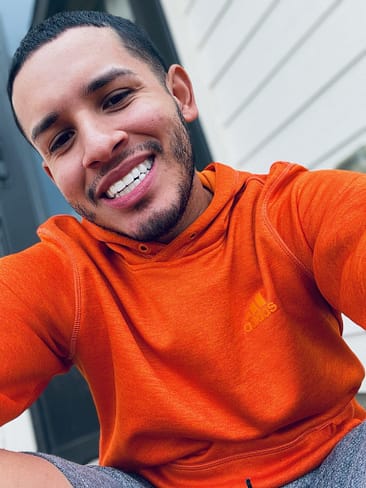 Impressions are made in three seconds and they're normally non-verbal, so when he sent me the after picture on the right and said we changed his smile, I paused for a minute and thought of all the things that were going to happen for him as a result of getting these veneers. I felt thankful for all the opportunities he was going to be open to and for all the progress he was going to make in life and with himself. I still feel thankful now to have had anything to do with his smile transformation.
I'm so proud of Brighter Image Lab. This company, and the people that we have here, help transform smiles and lives every single day. This makes Thanksgiving mean a lot to me.
The second gentleman who had his life changed by Bil Veneers never invested in his smile and, eventually, it got away from him. His smile was considered to be a bad smile.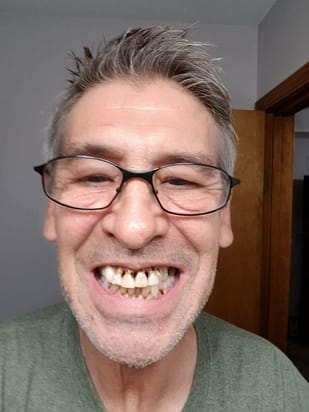 If he had the means he would have done something, but a lot of times whether you know it or not there's a big difference between being able to do something, wanting to do something, and feeling comfortable doing it. Luckily, this client felt comfortable enough with Brighter Image Lab to let us facilitate his smile transformation, and he was able to afford every penny of the process.
Because he chose Brighter Image Lab, this man was able to achieve a life-changing smile transformation. I hope he feels better about himself than he has in a long time, and I am profoundly thankful to be a part of that style design. I'm even more thankful that this man doesn't have dentures today. His bite is good and he's strong, so he shouldn't have to spend five thousand or ten thousand or twenty thousand dollars he doesn't have or take time off work to fix his smile.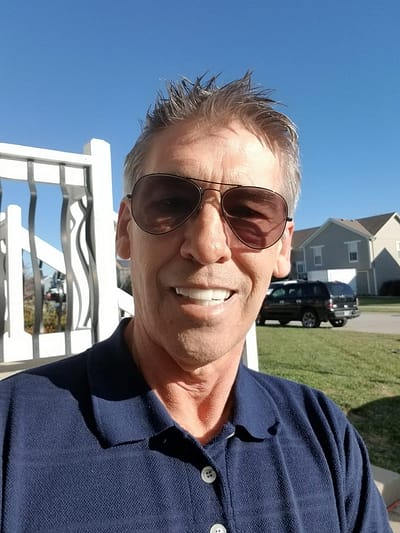 In this case, the client just thought the cost was going to be too high, for whatever reason. It was obviously a big challenge for him, and when he sent us his Bil Veneer results, I was amazed. I was amazed that we're doing this kind of work every day in our lab. Not just in this particular case, but for every single client. The work we're doing is incredible.
Every day, I see the standard for removable veneers grow. At Brighter Image Lab, we embrace that growth. We get better with every Bil Veneer and deliver the highest quality product to every client.
The results our clients achieve are the kind that are worth taking risks for. They're the reason why we do jobs that some would turn down.
Smile Transformation Giveaways
I want to share something that's pretty big to me – Smile Giveaways. 
If you're on the fence about trying our product or know someone who needs a new smile, please do not forget to be a part of our giveaway.
This time of year, you're closer to your friends, family members, cousins and co-workers. You see people you haven't seen in a long time, people you won't see again for a long time. If anyone you're around this holiday season is in need of a new smile, tell them to sign up for the chance to win this smile transformation.
I'm picking three more people this week: Duane, Danielle, and Ingrid. Here is a breakdown of their individual cases: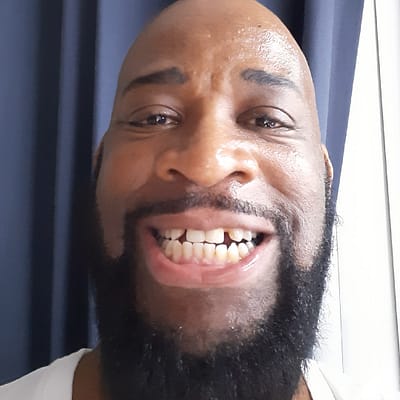 Duane's teeth can be seen in the picture to the left, and they speak for themselves.
I wholeheartedly believe that if we redesign Duane's smile, it's going to change his life. It's going to improve who he is and what he does because everything is about acceptance.
I think that his new smile will improve his self-acceptance. I think his self-esteem and personal self-confidence is going to go through the roof.
I can't wait to do this smile make-over for Duane. I'm glad he that he applied and was chosen.
As you can see in the picture on the right, Danielle seems very spirited. But, she is held back by an undesirable smile. Even worse, no one is helping her.
My team is going to help Danielle transform her smile because she shouldn't have to live with a smile that doesn't reflect how beautiful she is on the inside.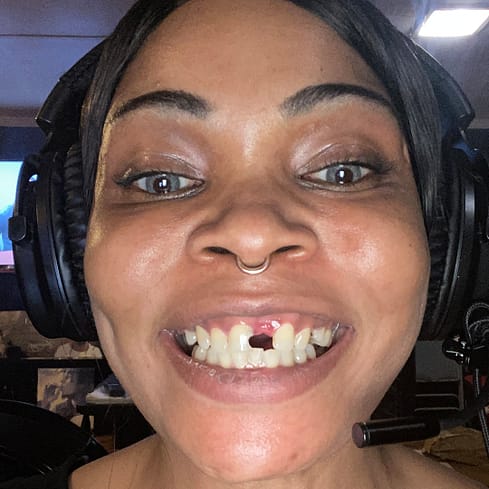 We're going to do an amazing smile transformation on Danielle, and I truly believe the results are going to be so dramatic that it's going to change her life forever. I hope you agree!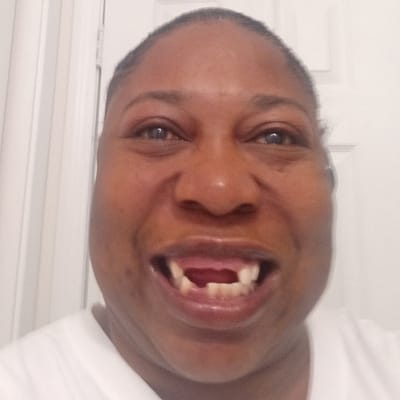 As you can see in Ingrid's picture on the left, she has an undesirable smile that is a big burden for her.
Ingrid's Bil Veneer smile transformation is going to have a profound effect on her. It is going to improve her quality of life and open up doors to opportunities and positivity that she never knew existed. Ingrid shouldn't have to beg for a smile transformation. If you look at her smile and you look at her overall facial features, you're going to see that an attractive smile has the potential to change so much about her.
Anyone who looks at Ingrid's pictures will know that Ingrid's future is going to be better if I can get her a smile that's beautiful and consistent. I think that her situation is very special. Her case is personal for me because I want so badly to see her smile transformation. I don't know her from Adam, but every once while I look at a client's photos and get a gut feeling that they need that make-over. I feel that way about Ingrid.
Looking back, I wonder what would have happened if we had stopped doing smile giveaways after the first 10. I would have left some cases behind that deserved to be seen.
I don't want to leave Ingrid behind. Bil Veneers are truly life-changing. They're going to make a great difference for everyone who tries them, and they're going to be able to do it instantly.
I hope you see what we're trying to do with these smile giveaways, because the common denominator in all three cases is – their smiles are holding them back from having a better life. At Brighter Image Lab, we want to help clients like these reach their full potential by improving their smiles.
Conclusion
I wanted to show you what I am thankful for this year, and I think this blog sums it up pretty well. I am thankful for all of the smiles we have been able to make and the lives we have transformed. It's nice to take a step back and really take the time to think about what you are thankful for.
Because of our YouTube channel and our loyal clients, we're able to give smile transformations to people who wouldn't have had it done otherwise. This makes me incredibly thankful to be a part of the things that we do here at Brighter Image Lab.
I cannot be more thankful for the things that we do at this company, the people who help me do it and the people we do it for. I'm very appreciative of each and every person that makes smile giveaways and smile transformations possible.
We are thankful for a lot of things here at Brighter Image Lab, but the thing we are most thankful for is YOU! We have so much more excitement planned before the new year, so stay tuned!
If you're interested in purchasing your own set of Bil Veneers, click below and get started to see your own smile transformation.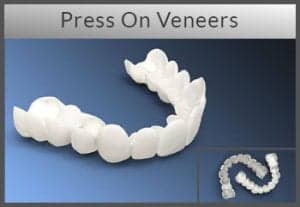 Our classic, beautifully designed, 100% Digitally Processed, Removable Veneers.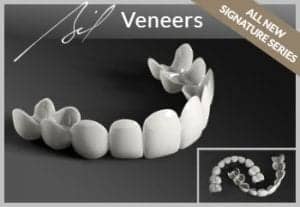 Our Master Crafted Veneers. Redesigned from the ground up to be Thinner, More Detailed, and Stronger than ever before.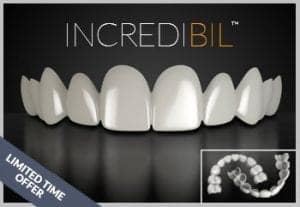 The newest addition to our family of veneers features unique light reflecting properties.