The Teeth Cover Up Revolution
Cosmetic dentistry takes time and money, a privilege many don't have. Luckily, technology and innovation in the dental industry has sparked a revolution!
That revolution is the temporary teeth cover up. Brighter Image Lab's PressOn Veneers allow people to improve their smile from home, giving them the power to transform their self-image without the burden of dental pain or procedures.
Unsure if fake teeth cover up is the best solution for you? Read on to find out!
What is a Teeth Cover Up?
Temporary teeth cover ups are removable veneers that simply snap over your existing smile, hiding any chips, stains, spaces, or gaps in the teeth.
People who suffer from an undesirable smile often feel embarrassed to speak, laugh, or even eat in a social setting.
If your teeth are stained, missing, chipped, or worn down, you're probably looking for the best solution. With Brighter Image Lab's temporary veneers, you may have found it!
Read on to find out more about Brighter Image Lab and how temporary tooth covers can change your smile today!
What Can I Use to Cover My Teeth?
If you want to restore your smile but aren't ready to commit to cosmetic dentistry or can't afford traditional veneers, Brighter Image Lab's temporary veneers may be the perfect option for covering your teeth.   
PressOn teeth cover up is a great choice for people who :
want to improve their smile

suffer from a gapped, crooked, stained, or missing tooth

are looking for a non-invasive alternative to dentures or porcelain veneers
Some people choose Brighter Image Lab's veneers over dentures, because our product is a pain-free, and procedure free solution.
They are temporary and removable, giving you the appearance of a perfect smile with a comfortable feel.
Making your set of custom veneers today won't require any pain, swelling, or recovery time. And its completely reversible!
Brighter Image Lab Teeth Cover Up
Brighter Image Lab operates under the belief that cosmetic dentistry should be available to anyone. We understand that the need for a beautiful smile isn't removed simply because you can't afford it.
Our PressOn teeth cover up gives clients a new lease on life. Those who once settled for broken, unsightly teeth are able to experience the self-confidence of a perfect smile.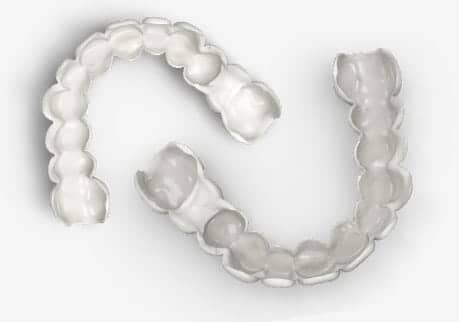 The smooth, crystalized resin gives the appearance of beautifully pristine teeth without the pain and cost of dental procedures.
Ultra-thin and durable, these custom made veneers allow you to eat and drink comfortably, so you never have to feel awkward in a social setting.
Brighter Image Lab believes a correctly fitted veneer has the power to alleviate years of embarrassment and pain. Because of this, we work tirelessly to provide the best, most affordable solution possible.
Bil Watson, Brighter Image Lab CEO:
"If there's one thing my experience has taught me, it's the value of a smile (the verb, not the noun). As valuable as a person's smile is, it's still directly related to how often they give a smile to someone else. We need so much more kindness in the world and a smile is the universal start of every good feeling, every meaningful conversation."
When you place your order online with Brighter Image Lab, you purchase custom design time and a unique lab process. You hire a 15 person staff to create a beautiful redesign over your existing smile. You start your journey to a one-of-a-kind, custom veneer fit only for you.
An average of 31 hours is spent on each top-of-the-line veneer. Below is a breakdown of this time:
3 Hours spent designing your veneers in 3D CAD Software

11 Hours spent printing your custom veneers on a 3D Printer

7 Hours spent in the lab processing & crafting your veneers

7 Hours spent in the lab fitting and polishing your veneers

3 Hours of time spent on data entry and customer service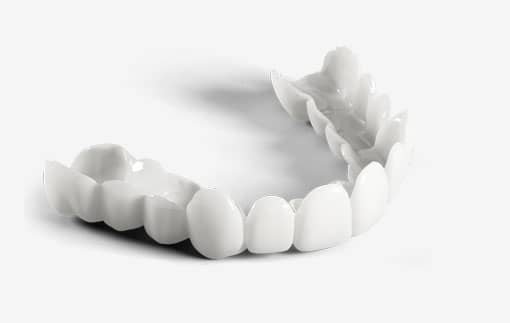 As you can see, every penny spent is accounted for. No scam, no catch. Just real people trying to solve a real problem.
If you call our office today, you will speak to a real human being, not some automated recording telling you to press pound for more options. We're here every day, at the same number since we opened, and we are here to help. Unfortunately, we can't say the same for the dental industry.
Read on to see how your dentist may be keeping your most affordable option from you!
Can You Cover Up Missing Teeth? Yes!
With Brighter Image Lab's PressOn Veneers, covering your missing teeth has never been more simple. These temporary teeth covers are designed to fit over your existing teeth to cover any and all smile imperfections. They are a great option for anyone looking to cover up missing teeth.
The light-weight and durable design of PressOn Veneers makes them comfortable to wear and strong enough to eat in. Simply snap the removable veneers over your existing smile and any gaps or missing teeth will be instantly covered.
Many of our clients have chosen PressOn Veneers to cover their missing teeth. Kevin Brown is one of those clients. Here are his results:
As you can see above, this removable teeth cover up option is great for anyone looking to improve their smile. By using this groundbreaking product, Kevin Brown was able to fill the gap of his missing tooth and completely transform his smile!
Kevin currently enjoys the benefits of his new smile, and we enjoy seeing him happy with his smile. If you choose PressOn Veneers as your teeth cover up solution, you can experience the same results as Kevin. You too can be completely transformed by the power of a perfect smile.
Whether it's missing teeth or gaps you're unhappy with, PressOn Veneers have the issue covered! Continue reading to learn how these removable veneers can also be used to cover up teeth gaps!
How to Cover Up Teeth Gaps
Maybe your teeth have been gapped since childhood or you're an adult that is now dealing with gaps as your teeth drift apart. Either way, you're probably looking for a way to fix the flaws in your teeth. Luckily, if you're unhappy with the look of your teeth gaps, you can cover them with PressOn Veneers.
PressOn Veneers are a great option for people who are unhappy with their gap teeth. These revolutionary removable veneers won't just cover your gap, they'll cover every inch of your front eight teeth. This coverage allows you to experience the confidence of a complete smile without the pain or complications of braces or porcelain veneers.
Many of our clients have covered gaps in their teeth with our removable veneers. One of these clients is named Zack.
Zack came to us with a desire to improve his smile. He had a gap between his two front teeth that needed to be filled. He ordered his own custom set of PressOn Veneers and completely transformed his smile. Here are his results:
As you can see, Zack was able to achieve a total smile make-over.
Once, Zack was unhappy with his smile. Now, it's absolutely flawless. With results like these, clients like Zack continue to choose Brighter Image Lab for their oral care solutions. What can we say? We give the clients what they want and need at a price they can afford, and we do it without hesitation.
Clients like Zack shouldn't have to live life unhappy with their smile, and neither should you. If you're looking to improve your smile by covering flaws in your teeth, be like Zack. Choose PressOn Veneers. Once you snap on your new smile, you'll wonder why you ever waited so long to try our product.
With PressOn Veneers, the confidence and allure of a perfect smile can be clipped on and removed in seconds. And with a low price and 100% approval on financing, there's nothing stopping you from completely transforming your smile today.
Don't let the gaps in your teeth keep you from smiling. Order PressOn Veneers and say goodbye to your gap teeth.
Curious if you can get these snap on veneers from your dentist? Read on to find out!
Can you get teeth cover ups from a dentist?
You've probably never heard a dentist suggest a Brighter Image Lab temporary teeth covers, because dentists regularly fail to inform patients of their most affordable option.
Unfortunately, no. If they don't stand a chance of profiting from the procedure, odds are they won't offer it.
This negligence violates the Least Expensive Alternative Treatment clause, and isolates patients from simple, affordable solutions to their dental problems.
It would be so simple for dentists to open up and say "hey, these are the solutions I have for you, but there are other products available if you aren't ready or can't afford the payments."
Instead, many practices boast million-dollar campaigns about fake tooth covers, but don't actually offer the cosmetic contrivances to patients. They use the allure of an attractive price to bring in and manipulate patients into expensive procedures.
Picture this…
A single mother of three struggles with her smile every day. She deals with discrimination, is turned away at job interviews, and suffers from low self-esteem. One day, this mother sees a billboard that claims to offer the smile enhancement she desperately needs. Ecstatic, she calls the number and makes her first appointment. Once she arrives, she is met by a dentist who says, "Oh, no, I'd like to show you veneers" or "Let's do some bonding. Let's get you into this. Let's get you into that." And before she can even remember what originally brought her in, she is being pitched a finance program and a major procedure.
What's the problem with this picture?
The problem is the person who came in to learn more about smile enhancement ended up being pitched something she never wanted and could never afford. This happens far too often.
Single mothers, starving artists, and average, everyday Americans are seeking low-cost solutions to their cosmetic dental needs.
Instead of being offered affordable solutions to improve their smile, they are forced to face 5, 10, and even 15-thousand-dollar treatment plans.
Dentists everywhere are basically saying "I don't have the empathy to find a way to help you until you can afford thousands of dollars in treatment." This is class warfare, and it's shameful.
Don't trust your dentist to offer the best, low-cost alternative. Go straight to the source!
Ready to order? Click on the graphic below to contact us and place your order today.
Conclusion
Time and time again, the dental industry fails to provide affordable solutions for those who are unhappy with their smile.
Fortunately, Brighter Image Lab offers a temporary veneer that allows clients to experience the confidence of a picturesque smile without the pain and cost of modern dentistry.
Whether you have gapped, stained, chipped, or missing teeth, or just want to improve your natural smile, Brighter Image Lab has an option for you!
Don't put off your new smile. Click below and get our amazing teeth cover ups for a great price!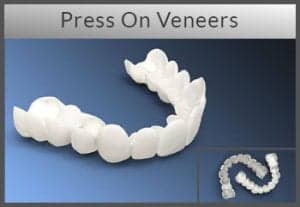 Our classic, beautifully designed, 100% Digitally Processed, Removable Veneers.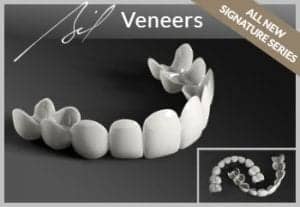 Our Master Crafted Veneers. Redesigned from the ground up to be Thinner, More Detailed, and Stronger than ever before.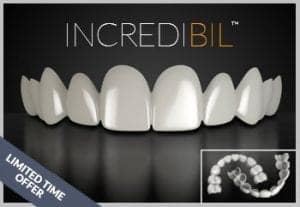 The newest addition to our family of veneers features unique light reflecting properties.