Introduction
Teeth whitening is the most requested, yet least performed dental procedure. Everyone wants a bright, white smile, but affordable teeth whitening is hard to find.
Many people choose to whiten their smile by using affordable, no-dentist teeth whitening solutions to save time and money. While this makes clients happy, it enrages the dentists who stand to profit hundreds off their smiles.
Recently, one rogue dentist named Dr. Mohamed Massaud expressed his rage by publicly condemning no-dentist teeth whitening products that save people thousands. Comments like these have likely driven many to overpay for a brighter smile while lining the pockets of dentists like Dr. Massaud's. This is WRONG!
In this blog, we will discuss Dr. Massaud's crusade to alienate people from their affordable options, his misguided thoughts about teeth whitening and how you can avoid greedy dentists like him by brightening your smile from home.
Crusade Against Affordable Teeth Whitening
Dr. Massaud, founder of Casey Dental Clinic, is the leading voice in the crusade against affordable teeth whitening options. Like many dental professionals, he sows doubt about no-dentist teeth whitening, so more people will pay him to brighten their smile.
Dentists like Dr. Massaud bash any teeth whitening product they don't stand to profit from. For example, Massaud has called on charcoal toothpaste to be removed from shelves "sooner rather than later," arguing that they "sand off a layer of the enamel." This statement is one of many misguided scare tactic he employs.
Charcoal toothpaste, which is mildly abrasive, can be extremely helpful in removing certain discolorations from teeth. Despite Massaud's claim, the toothpaste is very effective against surface stains caused by dark beverages such as wine or coffee.
Dr. Massaud's statement about charcoal toothpaste has likely scared many people away from one of their cheapest options for stain removal and herded them right through the doors of Casey Dental Clinic.
Many people are just now recovering financially from the pandemic, and with the average cost of a teeth whitening procedure being $650, tone-deaf dentists like Dr. Massaud have the audacity to call out whitening toothpaste but miss the bigger picture. They are actively alienating people — not only from a brighter smile, but from a brighter future.
Dr. Massaud's crusade against your affordable teeth whitening solutions is only a ploy to get you in his chair and so are his misguided thoughts about no-dentist smile solutions. Continue reading to lean more!
Fight Against No-Dentist Smile Solutions
In the midst of crusading to limit your affordable teeth whitening options, Dr. Massaud has also been fighting to lead clients away from no-dentist smile solutions. He does this by making statements meant to discourage patients from exploring their no-dentist teeth whitening options.
For example, Dr. Massaud says, "What we have in a dental practice you cannot buy off the shelves." This statement has likely led many to believe their only option for teeth whitening is expensive in-office treatment, which is false.
While some countries have strict laws that limit the concentration of no-dentist teeth-whitening products, others (such as the United States) have more lenient restrictions that allow for a world of affordable options.
If you live in Australia, you may not be able to go to your local supermarket and get a highly-concentrated teeth whitener, but that doesn't mean you're out of options. One U.S. company ships highly-concentrated at-home bleaching gel across the globe to virtually ANY client, so you can get professional results without a dentist.
Dr. Massaud wants you to think Casey Dental Clinic is your only option for brightening your smile, but it's not. There are many at-home teeth whitening options that will save you time and money and deliver professional-quality results every time.
Want to learn how to save HUNDREDS using at-home teeth whitening products instead of costly in-office whitening treatments dentists like Dr. Massaud's? Keep reading!
In-Office Teeth Whitening Vs. At-Home Teeth Whitening
In-office teeth whitening is extremely expensive and can take weeks to show results. It also requires the obvious: traveling to and sitting inside a dentist office, which can take hours out of your day.
Having your teeth whitened in-office can cost as much as $1,000 and is usually not covered by insurance. This means if you choose to have your teeth whitened by a dentist in-office, the cost will likely come out of your own pocket.
Many people can't afford to take hours out of their day or pay a thousand dollars to have their teeth whitened. Dentists like Dr. Massaud seem to want these people to have two options: either find a way to fill their pockets or allow them to suffer from an undesirable smile. Luckily, there are affordable teeth whitening options that cut out greedy dentists and allow people to brighten their smiles from home.
At-home teeth whitening has many advantages over in-office teeth whitening. For instance, at-home options can save you hundreds on in-office treatment and deliver results you can maintain yourself, so your teeth never go yellow again!
At-home teeth whitening only requires around 30 minutes and has the power to whiten your teeth 6 to 7 shades! Not only are at-home whitening kits affordable, they are also easily available. Many start at around $100 and can be ordered online, making them your most accessible and affordable teeth whitening solution.
One U.S. company, Brighter Image Lab, ships at-home teeth whitening kits across the world, reaching virtually any client who wants to brighten their smile. Keep reading to learn more about Brighter Image Lab and why their affordable teeth whitening system is the only one you'll ever need! 
A Better Solution for Affordable Teeth Whitening
At Brighter Image Lab, our mission is to make sure you know you have a choice. Over the last 20 years, we have worked tirelessly to combat misinformation that could keep you from exploring all your smile options.
Dentists like Dr. Massaud want to alienate and manipulate you to make more money, but you don't have to listen to them. Exploring all your options can save you hundreds and prevent you from falling into the clutches of a money-hungry dentist.
One option worth exploring is Brighter Image Lab's Bilistic Smile-Care System, which will allow you to clean, bleach and polish your smile without a dentist and for an affordable price. Our line of professional-quality teeth cleaning/whitening products has helped over 300,000 people brighten their image and improve their smile. 
Many of our clients have come to us after being quoted outrageous amounts for in-office teeth whitening or report being scammed by a greedy dentist. Now, they have a system that allows them to brighten their smile and maintain their results from home.
If you're dissatisfied with the color of your teeth, you don't have to overpay for a dentist to treat them. With Brighter Image Lab's affordable teeth whitening system, you can brighten your teeth from home for a fraction of the price of an in-office teeth whitening treatment.
Read on to learn more about the Bilistic Smile-Care System and how it can deliver professional-quality whitening results to your smile!
The Only Teeth Whitening System You'll Ever Need
Brighter Image Lab offers an affordable teeth whitening system that allows you to clean, bleach AND polish your teeth from the comfort of your own home without a dentist. Truly, this may be Dr. Massaud's biggest nightmare!
The Bilistic Teeth Cleaning/Bleaching System is the best way to whiten your teeth, and it all starts with our one of a kind Black Bilistic Infusion Trays. 
Proven to be 4X stronger and 60% thinner than what you'll get from a dentist, Black Infusion Trays are just another upside to Brighter Image Lab's no-dentist whitening solution. They provide 5 to 10 hours of active bleaching compared to the typical half hour by sealing out saliva that can hinder the whitening process.
Each Black Infusion Tray is meticulously hand-crafted and custom-designed, so your teeth may experience a tighter than expected fit – which is GOOD! A tight fit means the "Infusion" process will reach past surface areas to a point that even dentists can't reach.
The second part of the Bilistic Smile-Care teeth whitening kit is a revolutionary Detox Cleaning Serum, which breaks down layers of harmful build-up to provide direct access to the tooth's surface. This ensures a "full-curing" for the brightest teeth you've ever had!
Many people who try to bleach their teeth waste time and money bleaching invisible layers of bio-film, plaque, tartar and calculus rather than their actual teeth, but you don't have to! Brighter Image Lab's detox serum will clean your teeth and prepare them for the next step in the teeth whitening process: Pure Bleach Gel.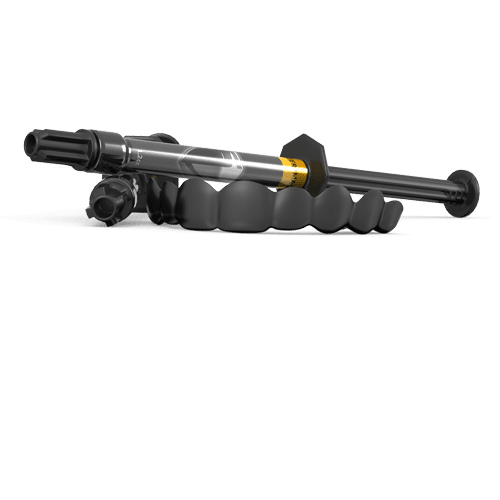 Bilistic Pure Bleaching Gel is essential to get your teeth to their whitest shade possible. Our proven gel formula has helped over 300,000 clients achieve the best smile possible, and we know if you try it, it will work for you. Our pure blend gel is formulated for the deepest bleaching possible, going past the surface of the tooth to the pulp and brightening teeth up to 7 shades in 1 day!
Last but not least, Brighter Image Lab's Bilistic Pro Tooth Polisher cleans hard to reach areas, kills 99.9% of odor-causing bacteria, removes buildup and freshens breath. This tool will brighten, freshen and rejuvenate your smile.
Comfortable and cost-effective, our Bilistic Pro-Series Tooth Polisher brings affordability and excellence to manicuring your image. Combined with the benefits of our detox serum and cleaning tools, the Bilistic Pro-Series Tooth Polisher has the power to brighten and whiten your smile.
Every part of our Bilistic Smile-Care System is designed to ensure you get the best results possible, every time. You can clean and brighten your teeth for a fraction of the cost – without a dentist.
Whether you're brightening external stains or simply maintaining your oral health, our affordable teeth whitening system is the right option for you. It's low-cost, easy to use, effective, and can be done from the comfort of your own home.
Conclusion
Everyone wants a bright, white smile. While there are many cost-effective teeth whitening options for achieving this, some dentists are advising against them, because they don't stand to make a profit.
Money-hungry and fraught with greed, rogue dentists want to limit your options until the only choice you have is to walk into their practice and turn out your pockets. They want to scare and manipulate you into overpaying for professional-quality results when you can achieve them at home for a fraction of the cost.
Luckily, you can avoid greedy dentists by whitening your teeth from home with Brighter Image Lab's Bilistic Smile-Care System. This DIY kit will allow you to whiten your smile with peace of mind and give you results you can maintain yourself, so your teeth never go yellow again.
If you're unhappy with the shade of your smile, don't fall into a greedy dentist's trap. Choose Brighter Image Lab for affordable teeth whitening you can do at-home. Click below and start brightening your smile today!
4 Syringes of Bilistic Detox Serum

4 Syringes of Pure Bleaching Gel

Upgraded Arch Cut Infusion Trays

Set of Dental Teeth Cleaning Tools

Bilistic Pro Series Polisher