Brighter Image Lab Veneers Review by a client in Washington
Watch our client in Washington give her Brighter Image Lab Veneers review. We absolutely love this client. She spells out exactly what it is like to wear Brighter Image Lab Veneers. If you ever wanted to know what it's like being a client for Brighter Image Lab, she will tell you!
Kristian's Brighter Image Lab Veneers Introduction
Hi guys, um, so this is just a review that I'm gonna do on my Brighter Image Lab Veneers that I got. I got them about a week and a half ago and I've been kind of slow about getting to a video. But I really did want to do a review because when I went on YouTube check them out I didn't really see a lot of reviews.
So I'm kind of adding to reviews to help you guys if you do decide to get them because if you look at the smile of mine…
My Brighter Image Lab Veneers Review
Basically they look completely natural and the process was super easy any one I talked to was super accommodating. Probably got a little tired of me because on the little texts to ask questions thing on their webpage.
I asked probably ten different times about how is the process going. Is there anything I need to do? Do I need to send it any more pictures? Anything like that and they were always willing to help me and it was just kind of they were really accommodating to anything that I might have needed.
Um but I'll take them out so you can see what my teeth look like beforehand, but just one more idea of what they did look like before.
My lips are chap.
And when I take them out, sorry kind of gross. You can see I had a lot of discoloration on my teeth, and I have silver caps on both sides. I also have silver caps on the bottom, so I am super happy with how they turned out.
Getting My Bottom Arch
So I'm looking to kind of now I'm going to look into getting my bottom arch done to cover those. Because I do really like how my top arch turned out and I'm really happy with it. But back on my teeth, basically yeah I mean they're straight. I did have braces for three years but I just have a lot of discoloration. I had a root canal there so my tooth was two different colors. That was a root canal so the tooth is entirely fake.
How I Got Started
So, it was just kind of I find these Brighter Image Lab Veneers online and I was like oh that would be a great way to kind of whiten my teeth up. Because of my fake teeth I am unable to use like white strips or anything like that and my teeth are undersized. They're about three percent under sized according to the brighter image people. So, this way, I kind of pop these back in. I get the size that my teeth are supposed to be and they're all white and they're gonna stay white as long as I take care of them. Obviously and I love how they look.
Review Questions
As for review questions like can I eat with them in? I can eat with them in, I have before but most of the time I choose not to. Just because I want to preserve the quality of them. But if I was at like a business lunch or anything like that or with like a potential employer, I would be totally fine eating with them in. I just normally chosen not to just because I'm comfortable taking them out in front of my friends and I have no problem with that.
Then as for being able to talk with them in I'm sure you can tell I can talk very easily. I have had them for a week and a half. But like I said earlier I had braces for three years. So I was already used to the idea of kind of like retainer.
So I had no troubles even initially talking with them in. But as for the retainer, these are way thinner than my retainer. They feel like I have nothing on. I never even noticed them. Sometimes I forget that there and I'm like ah where is it but they're actually in. And they're, it's really thin and I just love how it feels.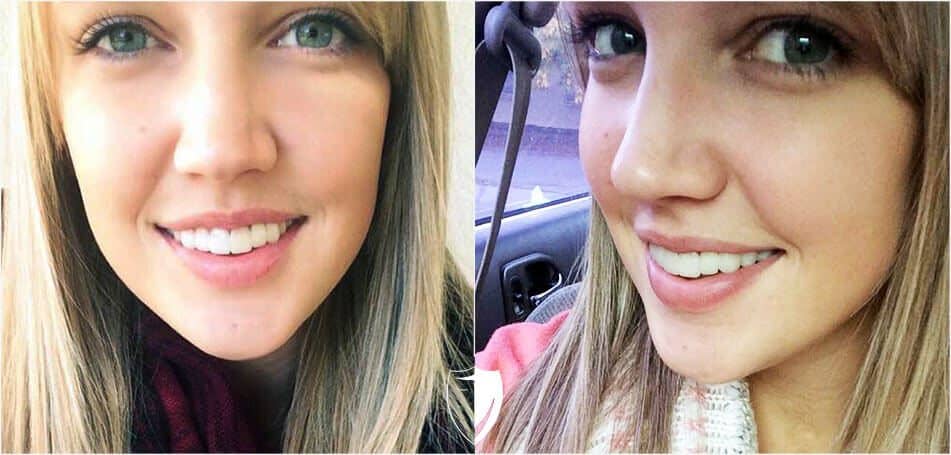 Brighter Image Lab Veneers Review Final Verdict
I love how it looks. I'm so happy with how it's turning out like I said I'm I want to get my bottom arch done so bad now cuz I love them so much. And I'm just so much more confident in myself and it's really just kind of changing who I am. And because I used to walk around kind of like this and shy and kind of hide myself. But now I'm happy to talk to anyone and give them a big old smile.
And I'm just my confidence is increasing so much so I'm really happy with how they turned out. But that's basically my review on Brighter Image Lab Veneers.
I mean if you want to see one more time. That's with them in. I'll, see all my silver teeth which was what one of my biggest insecurities was my silver teeth showing in like pictures or anything like that.
And then back in they look like perfect teeth.
Thank You Brighter Image Lab
So thank you so much Brighter Image Lab you really have changed my life, and I couldn't be happier!
Our classic, beautifully designed, 100% Digitally Processed, Removable Veneers.
Our Master Crafted Veneers. Redesigned from the ground up to be Thinner, More Detailed, and Stronger than ever before.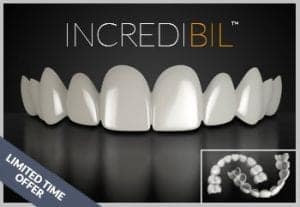 The newest addition to our family of veneers features unique light reflecting properties.