Watch the Fastest Smile Makeover Ever by Brighter Image Lab
This was the fastest smile makeover we have ever done. This client flew in and got her hair and makeup done. Meanwhile, we were hard at work creating a smile to match her new look. In the end, we gave her a smile she can be proud of.
Holly's Story
The problem with my mouth has like completely consumed me. My little girl, my seven year old, I even keep her at a distance so that she's not up close and personal.
Before they started to get real bad, we used to be like real silly and laugh and now like I just don't do that with her anymore.
I don't want her to say, you know, why do your teeth look this way?
Brighter Image Lab's Fastest Smile Makeover Ever
Hey guys, today we're doing the fastest smile makeover we've ever done. We've done some pretty quick before, but we've never been on a time crunch.
It's 2:45 Dallas time. We have young lady we're doing the fastest smile makeover for. Very bad teeth, very embarrassed to smile. She signed up a couple months ago and when she signed up to become our client, we said, "Hey, listen, we'll actually do a little bit of a makeover for you and see if these fit and get some pictures if you want to."
And she said that would make her confidence go through the roof. So with that, we offered it and then we got delayed, or she got delayed, and then we got rescheduled, or she got rescheduled and so it goes on and goes on.
Well, now, today we got a phone call that says listen, I can make a flight standby and we're gonna see if we can't do it. We have four hours to get this thing done. You're gonna see me meet her. I've never met her before and she's never met me but this is the kind of vlog I like.
One, it's interesting. Two, it should be pretty rewarding, and I've just never had one go this fast.
Bil Meets Holly
How are you doing?
Good.
Bil Watson how you doing?
Good.
Nice to meet you. You ready?
Uh huh.
Let's go. We're on a time crunch, so we're gonna make it. You nervous? How was your flight?
Long. It was a long way.
Seriously?
I've never flown before. It was nerve wracking.
We're running for a big-time crunch, so we may have to interview a little bit in the truck.
OK.
If you don't mind me asking, what do you do?
I am a manager at a restaurant.
Oh so you work your butt off
I do.
Like 24/7?
Absolutely.
They always ask, like, "Y'all know each other?" We don't know each other do we?
Nope.
When You Have a Bad Smile, You Re-learn How To Smile
I'm guessing probably what you've done is just train yourself not to smile very much
Absolutely. I trained myself how to talk. I try not to show anything…
Nothing, just the bottom portion of your teeth?
That's it. I don't want people to get too close.
Can you tell me how long has it been? That's what everyone's gonna ask, "Well, how long's her smile been bad?"
Over, probably over six years.
So it started around 18, or 16, or what year?
I mean little things and then…
Chipping, breaking, a bad…
Yup…
…tooth in the back hurt, and next thing you know you can't go get it drilled out and you just wait and you go, "Oh my god, why is my other one bad? Oh when will this stop?"
Desperate for Help With a Bad Smile
And I wrote to so many companies and like, dentists and contests and you were the only ones…
Who would respond?
Yeah.
From what I understand…
And that's the truth, I went I mean every day. I would wake up and get on the internet and look for stuff…
But just some kind of help?
Mm-hmm.
Everyone Needs a Good Smile
And everybody goes, "Oh it's cosmetic." Well having teeth that don't embarrass you is like saying, "Oh, pants are accessories." You know it's like, "Really? I think everybody needs a pair of pants."
I feel like you don't really realize how important it is until don't have it. Like you can't do it.
Oh I didn't realize that. Yeah you're right. I've never heard it said that way. You're right, like you know…
Once it's taken away…
Once it's gone it's too late.
Yes.
Dentists Should Be Offended
If I were a dentist I would be offended that some little girl in Erie Pennsylvania has to get on a plane, fly to Dallas to get help. Tooth Decay is the most preventable disease on the planet like on the whole world there's nothing more preventable than tooth decay.
People just aren't educated they don't know how it starts and so they don't know how to stop it. And like, I think in your situation you told me if you can make it look better then I don't care because I'm not in pain, I just need to look better.
Right.
New Smiles Should Be Affordable
And with that, that's kind of what you gave us a footing. But in your situation, you're a worker, you're a hustler, you weren't asking for anything. You just didn't know of anything that you could actually, pay off.
Right.
And you said, "Listen, I'm gonna take any action I could get." And they don't know it on YouTube but would have done anything. You're like, "Listen, I'm a worker I don't care my daughter's not going to get raised with a mother who doesn't smile."
Right.
And so I said if she's a fighter I'll be a fighter with her. I'm not going to let her fight by herself. And that's why we picked it.
The Fastest Smile Makeover Ever Begins
Now let me tell what we're gonna do here. This little place should take about 40 minutes. It's a little place called Drybar, they don't do anything but styling.
Ok.
But they're real cool at making people feel brand new.
You look amazing!
Thank you.
Looks cool. We got a little girl waiting to do some makeup on you, so it's new.
All right.
I don't know anything about that stuff. I hope you know the reason why I do that is I want them to go home feeling different. Not better, because everybody can do better. Everybody can do better. You go, "Oh, I could have worn a collar. Oh, I could have wore my stuff."
I want them to feel different, and different means the world to me. I understand that they're not the same.
Right. I'm starting to calm down a little bit more. I was nervous, yeah.
Your Smile Affects Everything In Your Life
My smile has affected my life in every in every way of my life. It's kept me from my friends. I'm always wondering if people are judging me. My little girl, my seven-year-old, I even keep her at a distance so that she's not up close and personal. Because if I do smile, I got my hand up or my head down.
Finishing the Fastest Smile Makeover Ever
Holly this is fastest smile makeover we've ever done. You look amazing. I'm glad we stopped. We didn't do color, we didn't do cut. We just styled your hair, did a little makeup.
Yeah
Threw you in a t-shirt, and we're trying to get you back to the airport.
Right.
You got some travels to do but when you get home I think you're gonna have the still enough freshness about you because everything's brand new.
I feel beautiful right now.
You're gonna go, "Wow, I can't wait to get in front of people!" I always tell people it's not about your smile it's about if they were smiling who would they be if something wasn't holding them back? And I'm hoping you do that.
So without further ado, I won't even put on gloves cause we're in a hurry. I'm going to actually ask you to put these in. Ready?
Holly Gets Her Fastest Smile Makeover
Yes.
All right you start with this and…They have a cover. And you start with the top and then we'll try the bottom. It looks amazing. You see it?
*gasps*
Can you see it?
Yeah. Wow!
See how much more that color is going to do for you?
Yeah.
Let's go ahead and try the bottoms. We're going to take that one out for a second.
Yeah, it's messy.
Try the bottom one, see what it does. Let's see how the bottom fits. Oh my God, that looks good!
Oh, wow!
What I want you to do is just try these on again, this time press them up and hold it for a few minutes. It looks so good, it's unbelievable. What'll happen is, you have a bite that's so tight at the bottom that you have to seat these. I can tell you they look amazing.
Oh my gosh! They look really pretty!
They look great.
The Fastest Smile Makeover Isn't Complete Without the Smile
You've done your diet, you've got your energy, you've got clothes, you got makeup and you've got something that's holding you back and it's been so punishing to you that I'm under the opinion that you probably have 1/10 of the pictures you're going to have with your little girl.
That's like one of the first things I wanted to do was take a selfie.
Selfies Need to Wait for the Smile
Second thing you're gonna do is take selfies. First thing you're going to do is just learn to smile. I'm telling you you don't know how, cause you're scared to. You're going to learn how to do it. What's the number that you would do if you had it to do over again?
Not wait so long.
You wouldn't have waited? How old is your little girl? Seven? And this is six years, so she's six years of seeing her mom not smile?
Right.
You aren't going to let that happen again?
No.
Whispered: I don't think so either.
It's Not Fair to Withhold a Smile
Yeah it's not fair, it's not fair. Not fair to her, not fair to you.
No.
How is this going to affect you with work?
I'm going to be more comfortable with my guests.
Just more you, right?
Smile, yeah, relax more, not be so serious.
Okay, that's worth the whole trip wasn't it?
Absolutely.
We we got a little behind, but if we didn't do it it wasn't gonna be done.
A Great Impression Isn't Difficult to Make
There's dentists out there that'll stay away from the internet because the impression is impossible. Were you scared of the impressions? Was it too hard?
No.
So you just did it and sent them in?
I did it, yeah.
We got it done. And so t-shirt and stuff is all extra, you really came to get a smile?
Yeah.
I think we did it. We did what we said we were going to do.
He's gonna take some pictures we're gonna take one together and we're gonna bolt all right? Ok! Boom, let's do it!
…and being able to take like a selfie with my seven-year-old would be awesome!
Thank you for watching this video from Brighter Image Lab. Please make sure you're following our YouTube Channel to receive all of our important updates and offers. – Click here to subscribe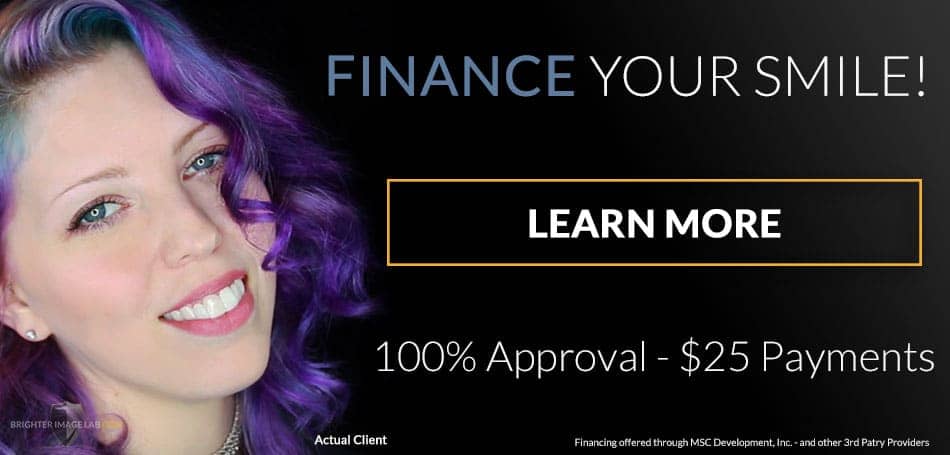 Holly flew in from Erie, PA, but stories pour in from clients in areas like: Buffalo, NY, Cleveland, OH, Pittsburgh, PA, Columbus, OH, Toronto, ON, Hamilton, Ontario, Rochester, NY, Syracuse, NY, Akron, OH, Columbus, OH, Baltimore, MD, Washington, DC, Philadelphia, PA, New York, NY, Boston, MA, Hartford, CT, New Haven, CT, Providence, RI, Springfield, MA, Ottawa, QC, Montreal, Quebec, Manchester, NH, Allentown, PA, Atlantic City, NJ, Charleston, WV, Roanoke, VA, and Richmond, VA