Teeth Whitening and the State Licensing Boards
In an injunction issued by Judge Robert Pitman, the U.S. District Court for the Western District of Texas held that Teladoc, the progressive healthcare platform connecting doctors to patients via remote means, succeeded in blocking the Texas Medical Board—for the time being. Teladoc, like the teeth whiteners of North Carolina, has taken on the Texas state licensing board in the dispute of the board's illegally limiting competition. The Texas Medical Board adopted revisions that Teladoc argues violates federal law as well as the Sherman Antitrust Act.
A Matter of Safety?
As with the teeth whitening debate, the Texas Medical Board claims their motivation is concern regarding patient safety. However, no evidence produced supports harm to any patient. The board rests soundly on the theory that allowing Teladoc to serve clients may prove harmful to the public. State dental boards promoting extreme concern for public safety without supporting evidence begs the question, who are they really protecting? Big Brother oversight with no sign of even potential harm highlights how state boards feel about competition toward their participants.
State Dental Boards Limit Options
As technology develops, people demand more affordable, convenient options that the evolution makes available. The default maneuver across many states is to deny those options on legal grounds. Statutory language is revised to stamp out perceived threats.
This sends a clear message to the public that the status quo will always favor the licensing board. They ban new technology which lowers prices or opens new venues of alternatives to traditional care. And people are clearly getting the message.
While the dentists and doctors may think that no one is watching, the public is paying close attention. They understand that state dental boards are more than market participants. Guided by corporations and special interests, they know these boards clearly hold their own interests above those of the people. Attempts to limit access to affordable healthcare for non-emergency medical issues won't go any better than limiting teeth whitening did.
State Licensing Boards Trying Public Patience
With the affordability of technology and public healthcare, when will they exhaust the public's patience? People grow weary of self-interested state licensing boards conveniently limiting options.
In this case, at least, Teladoc has the means to stand toe-to-toe with the state licensing board. But what about the next wave of emerging technology that threatens a state board?
In North Carolina, viable small businesses shut down due to orders deemed illegal by The United States Supreme Court. Who pays for entrepreneurship crushed out by the next state licensing board's "theory of harm" that they can't prove?
There should be some measure in that gray area of "oversight" that calls for actual proof. At the very least, boards can offer thorough research and investigation. State dental boards cannot shut down a viable and profitable business simply because it competes with the board's participants.
While expanding markets continue to offer new opportunities, a savvy public demand options. The status quo will not hold for long. Technology will continue to develop, and people will demand further improvement in their access to care.
People deserve choices in how to obtain that care. Yet, state dental boards hold onto tired language of statutes quickly becoming outdated. Actions mimicking the same clutching that hindered email from replacing snail mail. The insistent drum of technology as it marches on will proves what a fool's exercise that is.
Many licensing boards across the country, Texas included, don't employ Parker's immunity measures. This begs the more reasonable question, who will pay for the damages? Teladoc made clear that treble damages in the face of its scheduled IPO would run into the tens of millions.
Brighter Image Lab is an Advocate for Consumers
However, companies like Teladoc are not the only ones on the front lines of this critical shift in consumer advocacy.
Fighting for decades, Brighter Image Lab brings clients the very best in affordable teeth whitening and state-of-the-art removable smile makeovers. Find out how Press On Veneers has leveraged technology, creating a new smile enhancement.
Brighter Image Lab challenges the status quo and allows consumers to have a dental choice regarding the appearance of their smile. Before you pay thousands for dental veneers or a Snap On Smile, call and speak with Laurie Hall. Ask about the options available with Press On Veneer removable veneers.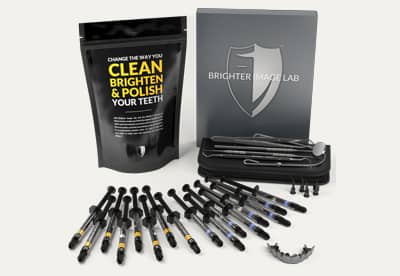 4 Syringes of Bilistic Detox Serum

4 Syringes of Pure Bleaching Gel

Upgraded Arch Cut Infusion Trays

Set of Dental Teeth Cleaning Tools

Bilistic Pro Series Polisher