Top Teeth Whitening Products
One of the widely popular methods of brightening teeth is to use the top teeth whitening products.
Millions upon millions of people are doing it…
ARE YOU?
Statistic reports indicate that about 40.5 million people in the United States used tooth whitening products in 2018.
Are they worth it? Let's find out now!
What Is Teeth Whitening
The process of teeth whitening works to lighten the color of the teeth using peroxide-based bleaching agents.
And when it comes to whitening your smile, there are a plethora of top teeth whitening products as well! Teeth whitening strips, trays, gels, lasers, pastes… it's up to you to pick the treatment that works best for YOU (and know how it's going to work).
The TOP Teeth Whitening Products
!It is vital to recognize that not all of the at-home teeth whitening products are created equal! Let's take a closer look at what a teeth whitening kit is and dive into the details you need to know when choosing a high-quality kit that will give you the results you desire.
Our teeth whitening kit is the best teeth whitening kit! Options include:
Product

Features

Rating

Brighter Image Lab's Lab Direct Teeth Bleaching System

The ONLY teeth whitening system that integrates teeth cleaning as part of the process.
Proprietary black bleaching trays.
Proven pure-blended bleaching gel.
NOTHING will get your teeth whiter or last longer!
Option for tooth polisher with detox serum

KoR whitening

Available only through KoR dentist professionals
Trays that you wear during sleep for at least 2 weeks

Snow whitening

Available to order online
Uses a serum and LED wavelengths (light system that comes in a wired kit)
21 days of consistent 15-30 minute whitening sessions

Aura Glow

Available to order online
Whitening gel and LED light technology
30 minutes per day for 2 weeks

iSmile

Available to order online
Light-activated acceleration technology
Use once a day for 10 minutes
But of course you are looking for GUARANTEED results…
Choosing From The Top Teeth Whitening Products
Here at Brighter Image Lab we have ONE goal, to help people brighten their smile!
Over the past 20 years and over 300,000 clients later… we've seen it ALL. And we understand that is your have Starbucks, coffee, tobacco, or aging stained teeth, the last thing you want to do is go to a dentist and get "the lecture" (and pay the HEFTY bill).
Our Lab Direct Process gives YOU the power to transform your teeth from the comfort and care of your own home. It is the most effective at home treatment process you can find because we've taken the time and attention needed to design a kit that provides your professional level results as you whiten teeth at home. What makes our system the best is:
Our "Infusion Trays"

The black Bilistic Infusion Tray is the first of its kind and it's the epitome of effective and efficient. Allows treatment materials to infuse directly onto the tooth without being compromised by the natural enzymes in your saliva.

"Infusion-Ultimate Detoxification Serum"

Deep cleans, desensitizes, remineralizes, and works to dissolve tartar and calculus. Leaves the mouth feeling unbelievable clean and detoxified.

Pure Hi-Intensity (Non-Blended) Bleaching Gels

Scientifically designed to deliver exceptional results and formulated for the deepest bleaching possible, going past the surface of the tooth to the pulp.
You're getting the most effective Smile Care System money can buy!
Until now, the cost of going to the dentist meant that most people had to choose between cleaning and whitening, but with our Bilistic Detox Serum's proprietary blend of ingredients, we offer a proven way to clean and brighten your teeth – for a fraction of the cost, and without the dentist.
Here at Brighter Image Lab, we are looking for people who want to improve their SMILE.
We offer our Smile Care System for people all over the world because the #1 thing you can do to improve your overall appearance is to improve your smile!
The reason why most people don't fix it… is because they don't think it's possible.
But, you can have an amazing smile that is affordable by choosing to buy Lab Direct with Brighter Image Lab.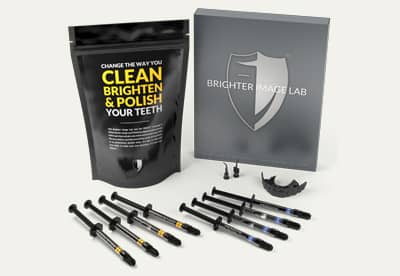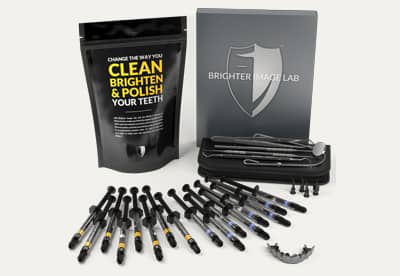 4 Syringes of Bilistic Detox Serum

4 Syringes of Pure Bleaching Gel

Upgraded Arch Cut Infusion Trays

Set of Dental Teeth Cleaning Tools

Bilistic Pro Series Polisher