Get an Inside Look at How We Choose New Life Smile Clients
Watch this video to get a candid look into how New Life Smile Clients are selected to be the next makeover.
I need a haircut
I was supposed to do a lot of stuff today. Before I get started, I feel weird about the blog because I need a haircut. I'm gonna go ahead and do my own haircut. So, we're gonna see how it works.
I have seen a couple other bloggers cut their own hair and I'm gonna see if I can. Come follow me, I'm gonna cut it in the back. Okay, I think I can do it. I think I can cut my own hair.
I'm just gonna put this towel on me and I'm just gonna start cutting. It can't be that hard. Like I'll just start cutting right there. Ouch!
So, what do you think? I'm absolutely finished. It's all cut. I think I did pretty good. Anyone can cut their own hair. Guys, I'm kidding with you. I didn't cut my own hair. These aren't my scissors. This is not my stuff.
Every month I get my hair cut by Helena and today we were just having fun because we'd seen some other bloggers that we're cutting their own hair and then all of the sudden it looks great. So, we thought we would try it.
How we select New Life Smile Clients
Really what we're doing today is: we wanted to open up the blog on how we actually do our New Life Smile Makeovers. People go online, they apply to be a New Life Smile Client, and people wonder how that process is done or how we go about doing it.
And so, they're normally done in the evening and that's what we're gonna do this evening. This week's blog is gonna be about that. Let's see what you think.
Hey Bil!
What are you doing kiddo?
Would you like to sit down and maybe look at the prospective new life smile clients?
Let's bring them out, come on. Kenna!
I'm trying to see if I can't make it.
I think it's the table top. Oh hey!
Yes sir?
Will you bring me the prospective new life smile clients?
Yes!
Move, please.
I think it's pretty cool I just need to be better at doing it longer.
I always like to look and look at their pictures and read their stories and-
It's all in the New Life Smile Client Story
It's always the New Life Smile Client story. Let me see them. She's so pretty but she can't smile. Let's see what this little girl's story is. I wanted to do -Kansas, 22. Got a baby girl. I just don't think that at 22 you can start your life with yellow teeth and big spaces and hope for the best and us ignore it.
They don't look so big there. See what you think.
No they don't, yeah.
Look how big this gap is.
Hmm. Oh my goodness. Wow.
But her teeth are clean and they're healthy.
Yeah.
I think we just have to. Let's see we can do on hers because these gaps, I'd like to fix them, but boy they're hard. They're hard long term. Look at that.
Wow.
Went from that to that.
Yeah.
That's just kinda weird.
A server with…. heard whispers… Some of these people are just mean.
An affordable smile makeover
You know, and if the dental industry would make things more affordable, like just basic.
I want to do this girl's teeth but her gums are so swollen that I don't know.
Yeah… She's got some other… Wow.
She's a single mother of two. Boy, that's what I hate. It's one thing to be in this world when you're on your own. You know, when you can bob and weave, it's nothing.
Yeah, but if it's go to the dentist for yourself or feed the kids.
Yep.
This little girl is super pretty. Even a little bit of discoloring, when it's yours, it's bad.
Yeah.
You can tell she cleans up real good. Where's she from? UK.
'Cause I think if you go, you might as well do…
If I go to UK, I'm gonna do a few…
Two or three.
Bad Teeth in the UK
But, I want to do some men if I go to the UK. Because every time I go to the UK, I see a lot of suits and bad teeth. To me, I think they think that it's just acceptable because the difference is not worth the difference.
But I'm like, let me just try. I get the feeling like if I cut hair, and I saw somebody with a bad haircut, I'd be like, just sit down. I got five minutes.
Let me fix it.
When I sit there and see three men outside in Armani suits, and they look like a Fortune 500 meeting seminar. Then all of a sudden, they start smiling and you go, "Wow, dude." And so if I go to the UK, I gotta get some guys.
The other thing I want to say is: Guys, if there's any guys, we need more guys.
That's what I was going to say.
Yeah.
Because guys won't tend to ask for a favor they'll… "I can do it. I'll fix it. I'm gonna get to it."
Well and like this guy, his teeth are way crooked.
But, I don't know if we can fix it.
I know.
Bad Teeth…Hate To Smile
That's like he almost needs to get something else. You know, as bad as I hate it, but I would tell anybody, if you're a guy and you have bad teeth and you hate your smile don't be afraid to go online.
Do our smile story and submit, so we can see what we can do. I'll tell you that if you think you won't be picked, it's not that we try to make it a win or lose thing, but obviously you can tell that if you're a guy, the probability of you being included or at least reviewed is pretty serious, right now. Especially if you've got some merit.
Oh cute, she's a cute girl.
Yeah and see, she looks real. I mean-
Sometimes all a New Life Smile Client needs is teeth whitening
I'm just wondering if we just bleach her, though. Let me say this, you tell me: her teeth aren't so bad. They're big, but if we were to just whiten the teeth, wouldn't that be enough for her?
Yeah, the cleaning and the whitening.
Because they'd bleach in no time.
And same thing with this. You almost want to see… her gums…
A little spring (teeth) cleaning
We have to- if we do any one of these that are really bad, we need to set up an appointment with one of the doctors who will actually clean their teeth. So, let's keep going through these. Let me see what you've gotten so far.
Okay, that's the Houston girl.
I think Houston's a go.
Yeah.
Don't you agree?
I do.
Just, if she wants it, we'll do it. She's asked for it. Let me see what else we got.
We'll deliver to Pizza Hut
Okay, now Ohio, and I'm kind of leaning toward that young.
She works at Pizza Hut.
Yeah, that's cool.
Yay! Pizza Hut!
Boom! Wow! All I know is, is that she's gonna be a totally different person come Monday. If we don't help this little kid be different, the world's gonna eat her up with that smile.
Yeah.
She needs some time. I think we can fix her. Er, not fix her but help her. She's in Illinois. Morton, Illinois. Yeah, she'll-
Oh, wow.
She needs top and bottom. Let's see what we've got. Sophomore at Liberty University. She has a rare bone disorder.
Oh, wow.
You see she says I'm a wheelchair-bound… Oh she's…
Bless her heart.
Well she's a sophomore.
Oh, she's 21 years old.
Wow.
We need contact information to contact New Life Smile Clients
Oh I see. Yeah. I hate when they don't give a phone number. I want to work with them.
Yeah.
Yeah.
They upload the pictures and we're sitting here going, oh they did this, they did that. And I guess we have an email form, but if you don't have a cell phone number you can't ask them any questions.
Another UK. Oh, look at that gap. I bit what, what happened is-
Wow.
YouTube Influencers make great New Life Smile Clients
The reason why I'm crazy about doing gaps, is because we've been doing so good. We've been figuring out how to make them work. There's a guy in here from New York City that I want to do. It's a new kid that does the YouTube channel.
He got like 4.5 million hits on one song.
Oh, nice.
And if he's a decent guy, if he's a decent kid at all, I want to work with him. So you'll see that come out. This girl's got really, really long teeth. We can do them, I'm just really scared that they'll think they're just too long.
They're huge, yeah.
We can't make the teeth shorter
Because everybody wants teeth shorter. And we can't make them shorter. All we can do is put them over. Anyway, so we've got to bail out. Long teeth are tough to do. I think that's one thing.
The other thing is, is they're protruded if they stick too far out at the bottom and not enough at the top. It's hard to right-size that to where you could actually put a veneer on it.
Right.
And if they have too much motion. So, some of these people go, "Why don't you work with me?" it's not that we didn't review it. it's just, it's not a situation that I think we can make them feel more comfortable with.
Yeah.
Offering New Life Smile Clients more than just teeth veneers
Well in some of these people, I think maybe if we just, like her even. Even if we just say, "Hey, for right now, we're just gonna help you out in this way." And give them some cleaning and some bleaching.
Yeah, but this little girl's got such a good life, that I would do anything to get off the Kansas City Airport and hand her a smile and then push her back to work.
Yeah.
And get her out making a change in the world. And then it's like, hey, she got her stuff. Am I wrong?
Yeah, she looks like a real sweet, sweet girl.
Yeah,. pick two or three.
Everything going for her but her smile
Girls like this or the freckled girl, the smile is the only thing she's lacking. They already have the whole package except for-
Yeah, everything they need.
Girls like, girls like, think about Stacey. She was lacking everything: the hair, the makeup, the teeth.
Yeah, she wasn't getting any, no love.
And then now, you see her Facebook. She's got makeup on in every picture, she's smiling in every picture, her hair's done in every picture.
Yeah, she's making the effort.
Happy every day.
Because she feels like she's worth-
It changed her that much. It influenced her to put makeup on every day.
Wrapping it up
We're gonna, we're gonna look at them. Because I'm gonna wrap this up.
Yeah.
I need to go eat. Thank you so much. Would you tell Miss Jen- Miss Jennifer!
So, I'm thinking this.
Yes?
Thank you for staying for me tonight.
You're welcome.
Do you see what we're doing?
What are y'all doing?
Selecting the New Life Smile Clients
I need you for a few minutes. I think we have enough. We have more than 10 possible new life smile clients. You pick out the other five that you want for sure. I'll pick out these five and then we'll start contacting them. And then I'll do some more stuff.
Okay, I've got 3 possible extreme smile makeover clients in Texas. So that's what we could do local. And then we've got the one… oh here's another. There was another one.
I've got a few more than I must have pulled. They just aren't showing. I will probably come get you in a little bit, but-
Well, no, the last time we looked over this… the few that-
I got a New York guy that I can't find.
Okay.
I want to do him because I like that he's a YouTuber. If he's a good kid at all, I want to work with him. So, we'll see.
Nice.
Contacting the New Life Smile Clients
So, I think what we do is we break for now and when we get some people on the phone, we may cover it. We'll do some more footage there where we see what they're like on the phone.
Yeah.
And because I think that's a big deal. We just talk to them and see what they think. Because, generally, they get pretty excited or they're shocked. Let's just take it from there. Right now, I want to go eat.
Okay.
So, I'm gonna leave this out and when I find the other ones, I may come get you.
Okay!
Great. Thank you Jill!
You're welcome.
Thank you so much.
Thank you, Bil. This is so fun.
It's fun when it works.
Yeah.
You know what and sometimes like even with Stacey, it wasn't fun at all.
Yeah.
The ride home
Until the ride home and we had I guess a 13 minute ride from there to here. And boy, you wanna talk about a little girl who was sorry for not being… at having a bad… I don't know, if I could walk in her shoes, what I would've done.
I don't know how I could've tried to be grateful on her situation that was perceived to be so screwed. But, I will tell you, you want to talk about making it worth it.
Turnaround.
Yeah, because I will tell you. If that would have went bad, the next day I was gonna say screw it, I don't want to deal with these crazy…
Yeah.
You know. But when she got happy, I knew something was up. I knew and she didn't get a little happy. I mean, she went on. In other words, like, "I think I just learned how to live happy."
Right.
And that was a big deal for me. So, we'll see.
Alright.
We're going to go eat. I'll see you in a little bit.
Okay.
Thank you so much.
You're welcome.
Learn more at BrighterImageLab.com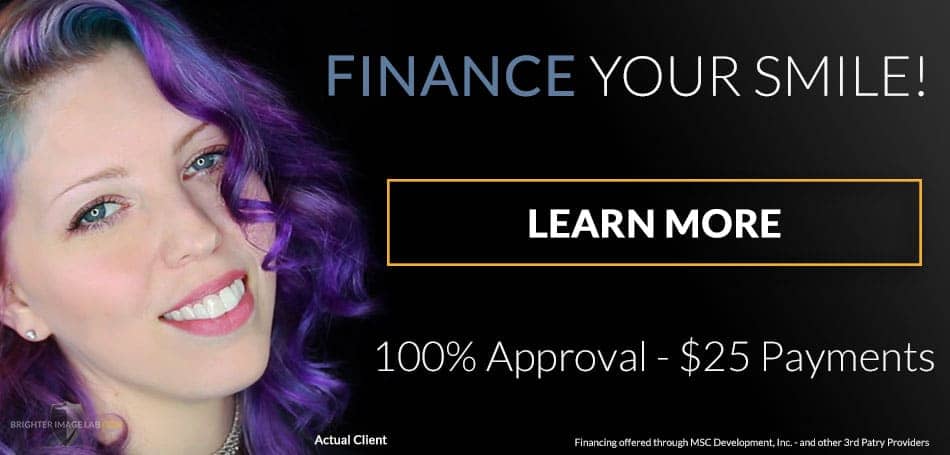 To learn more about New Life Smile, visit their website at https://newlifesmile.org